The Weekender
The Weekender bag is our classic zip top leather duffle bag. This will become your workhorse for short-term travel, gym, or just running around town. We've added two pockets on the ends for easy external access in addition to an internal pocket for personal items. The detachable leather strap provides comfort when needed and a clean carry-all style when it's not. Custom monogramming is available on this product.
100% Full-Grain Leather
Copper rivets
Heavy-duty zipper
ID tag
Adjustable strap
Interior pocket
Airline carry-on friendly
Width: 21"
Height: 11.5"
Depth: 9"
Weight: 6lbs.
Product reviews
Customer Reviews
Write a Review
Ask a Question
12/16/2021
Elijah P.

United States
Quality Bag
No cut corners, everything is high quality
12/11/2021
Albert

United States
Love it
Right size, shape, two outside pockets and love the weight of bag. And the leather strap and shoulder pad are spot on.
11/29/2021
Brooke K.

United States
Weekender
I am giving them as gifts. I think they are beautiful.
08/31/2021
Josh

United States
Awe inspiring leather bag
I went on a bit of a leather bag binge recently and bought 2 duffles, 2 backpacks and 3 totes for my wife. This was the first piece I received in building my collection and is really what started it all. I love the bag that much that. The unique rugged handsomeness, the weight and feel of pure quality, the smell of the leather... It was a pitfall into addiction! It's a lot of money to spend on a bag but compared to other brands on the market that use high quality full grain leather W.P is the best combination of price and quality available imo. If you take the plunge and receive this thing in the mail the minute you open it you will forget what you spent, you will be in awe and your reward senses will be firing on all cylinders!
10/28/2020
Kent

United States
Love my new weekend duffel
Very nice quality leather bag, I never regret investing in quality items or equipment, the cheap stuff cost you more....
01/30/2020
Milos

Germany
It is not just bag, it is life time companion!
I am from Europe and I was hoping that I could be able to find something similar here without paying extra shipping and tax costs. After 2 years of looking around, none of them are even close to this beauty. Smells awesome. Looks beautiful. Feels great. Design, leather, size, details.. everything is just masterpiece. I can't be more happy with the choice. It is that feeling when something you see on website looks even better in your home! It is not just bag, it is life time companion! Ryan from support answered on all my questions on instagram and help me figuring out best shipping solution. Thanks!
12/17/2019
Daniel L.

United States
Gifted the weekender
I purchased the weekender for a good friend who travels often. When he opened the gift his face told me how much he liked it. He literally was in awe and it truly seemed to me like it was one of the nicest gifts he ever received. He could not stop talking about the quality and beauty of the bag. I was equally as taken with this duffel bag and eventually will be purchasing one for myself. I can't imagine anybody who would not love this bag :)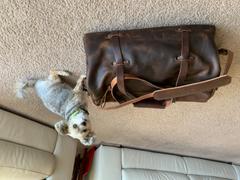 Fantastic Duffle
I've had the Weekender for a couple years now, and it's my go-to bag for any travel whether it be a weekend trip or something a bit longer. Really haven't had any problems with it since it is really durable.
Excellent Weekender
Simple. Stylish. Durable. Will use for as long as I can and hopefully keep in the family for generations.
Perfect for a weekend
Like the leather duffel bag, the weekender is amazing. The quality of the product is superb. The bag is the perfect size and weight for a quick trip somewhere. I had a great experience with the duffel bag, and the I love the Weekender even more. Whipping Post is an awesome company.
LOVE LOVE LOVE this bag!
Shipping was super fast and the bag is GORGEOUS! This beauty is made to last a lifetime!
Best Weekender!
It's been about a 18 months since my purchase and wow! It looks even better than the day I got it! The feel is unlike any other bag. It's my go to for a quick getaway. Yes it can be a little pricey, but the quality is top notch! Should last a lifetime! And from what I can remember, the shipping was super fast.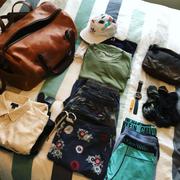 Love it!!!
I love this bag!!! I waited a long time to make the purchase and I am so glad I finally did. I suits my needs perfectly and I've gotten many compliments about it. Thank you.
Fanstatic weekender
Thick, rich, soft leather with a warm honey/tan color. Very well made. Have had for nearly a year. I am as happy with my purchase now as I was the day I received it. I was so impressed with their leather quality and workmanship that I also ordered the Dopp kit.
Well Made
This is such a nice well made bag. Looks better with age.
Perfect Size
I have needed a leather weekender bag for some time now, finding this one was exactly what I needed. Perfect size.