The Cargo Tote Bag
Our Cargo Tote Bag strikes the perfect balance between form and function to create a dependable everyday tote bag. With external pockets and an internal drop pocket, this bag offers plenty of capacity. Perfect for the weekend getaway or pulling double duty as a work tote to hold electronics, books, or tools. Sturdy full-grain leather construction ensures this tote lasts a very long time and gains character with age and use.
• 100% Full-grain Leather
• Two external pockets
• Internal drop pocket
• Beautiful finish that gets better with age
• FREE Shipping and FREE Returns
• Comes with a lifetime guarantee on repairs
• Width: 13.5" at base, 21" across the top
• Height: 13.75"
• Depth: 4.25"
• Handle drop: 10.5"
• Weight: 2.8lbs
Featured In







Storage
Roomy build with 3 pockets to keep it all organized.
Our Philosophy. Try Risk-Free.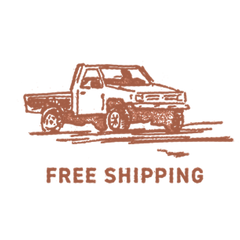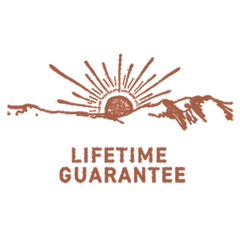 Monogram
Add a 3-letter Monogram to personalize your bag.
In the Wild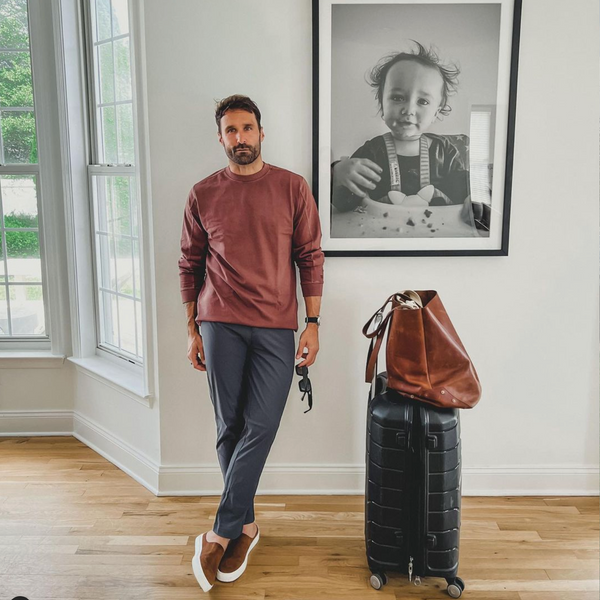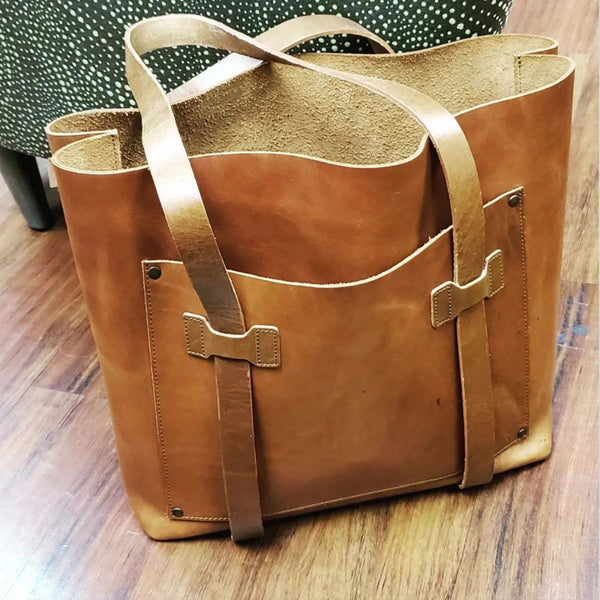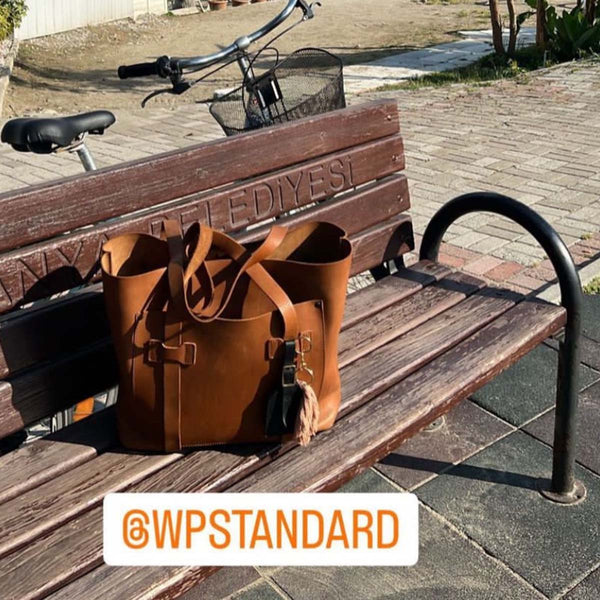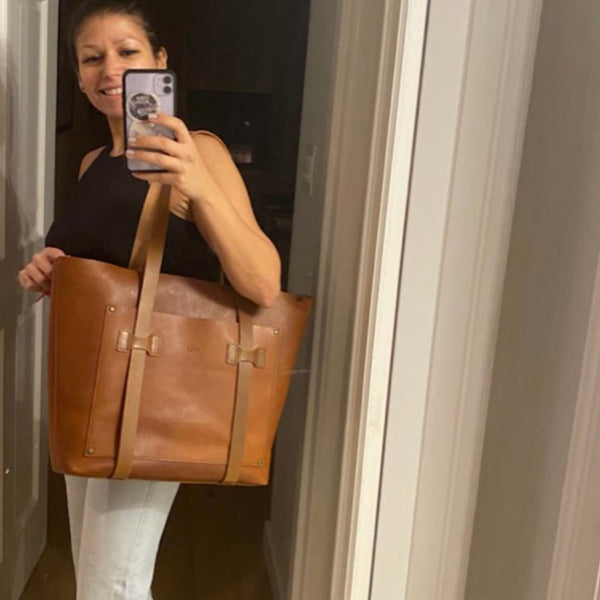 FAQ
How quickly will I receive it?
All items ship within 48 hours.
What is your return policy?
Can I customize?
Reviews
Customer Reviews
Write a Review
Ask a Question
02/25/2023
Alicia P.

United States
LOVE this new Cargo Tote Bag!!!!!
This bag is absolutely perfect for my needs! Travel, work and overnight stays. This is my new go to lifetime bag. Can't wait to break it in!!!! Plus the personnel at WP were extremely helpful and prompt with my questions. Never been happier!!!
02/18/2023
Eileen B.

United States
Love it!
It's exactly what I was looking for. Beautiful leather, wider base works for carrying lots of things, computer fits well, and great pockets, but not too many. Highly recommend.
02/06/2023
Melanie C.

United States
Better Than Expected
I'm so used to ordering items online only to be disappointed upon receipt. Well, this bag did not disappoint! It is beautifully handmade and even better than the photos. I can't wait for it to get better with age! Worth every penny.
01/23/2023
Lauren B.

United States
The most exquisite bag - this is your sign - just do it!
I have owned leather bags before but not one like this WP Standard. I hesitated to pull the trigger based on cost however I always find it true - you get what you pay for. The leather is absolutely exquisite. It is soft, beautiful, and smells amazing. The straps are so soft they don't hold their shape, which was a very pleasant surprise to me. The bag stands on its own thanks to an extra layer in the bottom, which I appreciate. The size is perfect for every day use but I also anticipate being able to cram so much stuff in it when I use it as a carry on for an upcoming trip with two small children. The pockets are great - I don't feel like the pictures show it well but the back of the bag has a large outside pocket just like the front! The small inner pocket is perfect for a phone, small wallet, easy access chapstick, etc. I rarely write reviews but I felt like I owed it to WP Standard to write one because they have really gone above and beyond with quality — perhaps why they offer a lifetime guarantee! They really ARE the standard.. that most don't live up to. Happy shopping!
01/11/2023
Kathryn S.

United States
A perfect on the go bag
This is the perfect shape, size and material for a busy mom who wants to be able to use a handbag that is cute, but also very functional. I need to be able to use my handbag for heavy use, but I want a bag with structure and not devolve into becoming a version of a schlumpy bag lady. I'm excited to use this for years to come.
01/10/2023
Amelia B.

United States
Beautiful, one flaw
Loving this tote! Fits my 15" laptop and the straps are the perfect length for commuting in NYC. My only critique is that the straps are made of soft leather that falls to the floor when set down. Not as pictured. The way it's constructed, it's an easy fix if you're handy and looking to seek out the solution.
01/09/2023
Suzanne Z.

United States
Easy and beautiful craftsmanship
I ordered the tote - it was delivered in a few days and the craftsmanship was impeccable.
12/10/2022
Martine N.

United States
Cargo Tote
This bag is big. It can carry a book, laptop, folder, daily planner, sunglasses and a beauty bag. Just the size I was looking for. This is a beautiful, supple and rich leather with a sturdy bottom, which I love, no sagging. If you make the decision to buy one, you won't regret it. Enjoy!
12/08/2022
Chance L.

United States
Gorgeous Bag
I've had my eye on this cargo tote bag for some time now and finally decided to order it as a Christmas gift to myself. I'm so glad that I did because this bag is perfection! I love how soft and smooth it is, and the craftsmanship is impressive. I know it will last me forever. Looking forward to ordering more bags from WP!
11/25/2022
Lisa G.

Canada
Perfect tote
This tote is even more gorgeous in person! The color and quality of this leather is perfection. I'm very picky with bags and WP has always delivered the best product.
11/07/2022
Ericka

United States
Cargo bag
Ordered this bag after watching many reviews online. I own several totes from different companies and wanted to try this tote. I've found tote peace! This is the most beautiful bag ever! It's high quality leather, the bag smells and looks amazing! I've put everything I had in this bag and it's not heavy. I will be using this bag for many years. Also a special shout out to Jenny who was willing to jump in and help when I had an issue with UPS.
10/27/2022
Christopher A.

United States
Can NOT do without this bag!!!
I had this bag just about a year when it was stolen. That was 3 months ago. And it's been the most unorganized, frantic, and not to mention way less fashionable 3 months I could have done without. So, I just purchased my second one. Quality, style, and a definite statement is what this tote is all about. Use from an everyday home/work lifestyle, to any traveling go-getter... this tote will NOT disappoint with its ability and volume that it can handle. I LOVE it!!!
09/18/2022
Josh P.

United States
Toast of the totes
I'm always reaching for this tote. We have a half dozen reusable bags and totes, but this is among the largest, most versatile in function and appearance. I'm trying to justify buying another, as this one is often still loaded up when I need to haul another load. Thicker leather than other WP bags, appropriately. Looking forward to beating a patina into this bag with my kids and I abusing it for the next 20 years.
09/11/2022
Kristin F.

United States
Beautiful tote
The tote is very beautiful. I live that it is structured. I can pack a lot of stuff in it for school. I am pleased.
09/08/2022
Joan G.

United States
Beautiful bag and craftsmanship!
This bag is amazing! I know I will have it for years and that it will only get better. It's PERFECT!
08/26/2022
Dawn H.

United States
The Perfect Tote
I LOVE this tote. It is so spacious and light. When I have it loaded down, it still feels comfortable on my shoulders. This tote is beautiful and perfect.