Cargo Tote Bag
Our Cargo Tote Bag strikes the perfect balance between form and function to create a dependable everyday tote bag. With external pockets in addition to an internal drop pocket, this bag offers plenty of capacity. Perfect for the weekend getaway or pulling double duty as a work tote to hold electronics, books, or tools. Sturdy full-grain leather construction ensures this tote last a very long time and gain character with age and use. Custom monogramming is available. 
Two external pockets
FREE Shipping and FREE Returns
Width: 13.5" at base, 21" across the top
Height: 13.75"
Depth: 4.25"
Handle drop: 10.5"
Weight: 2.8lbs
Product reviews
Customer Reviews
Write a Review
Ask a Question
01/11/2022
Kathy S.

United States
My Daily Partner
This bag is part of my daily life and has been for years! This bag is made extremely well, looks great, and makes me smile. I LOVE this bag!
12/11/2021
Christina V.

United States
Cargo tote
I love my new cargo tote, she smells delicious and is such a great size. Plus I love the two outside pockets. I love it so much, I created a WP Standard fans page on Facebook so I can keep enjoying looking at everyone's bags. This won't be my last purchase
09/02/2021
Susan W.

United States
Wonderful bag
My husband bought this for my birthday after I requested it. It's awesomely beautiful and everything I hoped for. I stalked it online for several weeks and knew I had to have it. It's beautifully made well constructed smells divine and I'll have it forever. I will say the video on the website also swayed me. I love your message of sustainability. I'm thinking I also need the market tote in the next few weeks. And maybe the pouches too?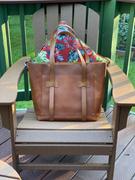 08/17/2021
Jessica

United States
Amazing!
This tote is fabulous! The quality is excellent, and the customer service I received from WP was great! It's hard to tell how big the tote is based on the pictures and reading the dimensions, but this is a large tote! It's perfect for work or even possibly a weekend getaway. It's my current every day carry even though I haven't been carrying much, because it's that great!
07/29/2021
Perla A.

United States
Lifetime Tote
When I opened the package, Wow, leathery smell, well made, sturdy, impeccable quality but had to ignore the weight, it's heavy when you fill it up. Even though I received the box repackaged, the label was retapped, the paper wrap and the bag had dried water marks I did not want to exchange or return because I was so excited to use it. I applied leather moisturizer and the water mark disappeared. I own other totes but I gravitate to this, I use it as my work bag, can be filled with all my essentials and don't have to worry about the handle, it hold it's shape. I also don't have to baby this either unlike my expensive tote, I just wipe the scratches with the leather cleaner and apply the moisturizer. A very good purchase
03/25/2021
Danielle

United States
I Love This Cargo Tote
I am extremely pleased with this bag!! It is fashionable, durable and the compliments never end with how well made this tote is. I am looking for a black tote next!
03/16/2021
Colleen O.

United States
Beautiful tote
I just received my tote. My purchase was securely packeaged. It is even more beautiful in person. I have been looking at this tote for such a long time and I'm so glad I purchased it. The workmanship is great, the leather is lushious. The length of straps are perfect for my frame. I chose the large size, so I have plenty of room for my pouches and an A5 Filofax planner. Love my tote. Thank you.
03/10/2021
Laurel S.

United States
Great bag - great company!!
I can't say enough about the quality and functionality of this bag. It is just what I was looking for and will have it for many years. This Texas company even took the time in the middle of their recent weather related crises to let me know shipment would be delayed. I am a very happy customer!
02/11/2021
Linda W.

United States
For the love of leather
Just received my bag and it's just perfect for all my needs. Thanks you so much for your great workmanship. The interior pocket is different than your picture but it's Aok with me.
01/11/2021
Jordan

United States
absolutely lovely
I found this bag to be so lovely and useful. It is perfect for work and school. It hold my books, computer, wallet and anything else I need for the day perfectly. I have had my tote for a little over two months now and it is wearing very nicely. The quality of leather is great and, personally, think it looks great. The straps do tend to come off the shoulder a bit if I have to carry it for a period of time but as I wear it more the leather does seem to be softening a bit and I don't have as much problems with it now that it is worn in a bit more. The size is perfect for a school or professional setting and really does hold quite a bit. I would love to see more styles for smaller bags, like an everyday purse, but for work this has been my go-to.
11/27/2020
Hannah

United States
Beautiful
Arrived quickly beautifully packaged. I get complements on this bag all the time. My work an school things fit in it without it feeling too bulky. I never get tired of looking at it. I would purchase again (but I won't have to because it will last me a lifetime)
11/24/2020
Neal T.

United States
This bag is EVERYTHING!
Although this is a simple leather bag, I seem to get a lot of compliments. It literally carries my entire life, and looks so well while doing it.
11/02/2020
Sam A.

United States
Cargo Tote Bag
Received bag and the craftsmanship is impeccable. Leather is strong and supple. I've used this bag for travel and for every day use. Get compliments on it. Additionally, the deep pockets make if functional and utilitarian. Highly recommend.
09/09/2020
Cindy

United States
Amazing Quality!
My bag is amazing! Great to carry everything! The craftsmanship is beautiful! Its a bit big, but i still love it! Can't wait to see it age!!! It has the new look! I want it it to look ages already!! How long does it take to get that look?!?!?!?
So glad to hear you love it! The more you use it, the quicker it will age and develop that deep, beautiful patina. :)
A True Beauty
Bought this beauty almost a year ago. It is aging like fine wine. It holds everything and looks beautiful doing so. If you buy this tote, you will not be sorry.
04/16/2020
Todd

United States
Making this product in black
Hi this isn't really a review but more so a continuous statement of how much this company is losing money, not offering this product in black. I scroll through Instagram comments everyday and see numerous individuals asking for this to be made in black. I myself did the same thing months ago. I understand that maybe the dying process for the black might be more time consuming, as I work in leather too, but it's a sincere missed opportunity.
Hi! Thanks for keeping up with us and for your feedback! We are actually in the process of making this bag in some new colors very soon. :) Please feel free to reach out with any other questions or concerns.