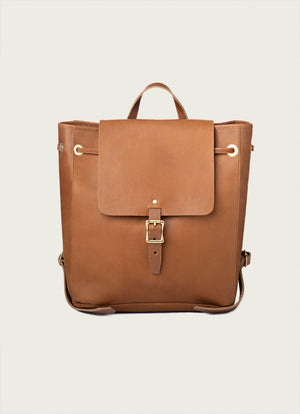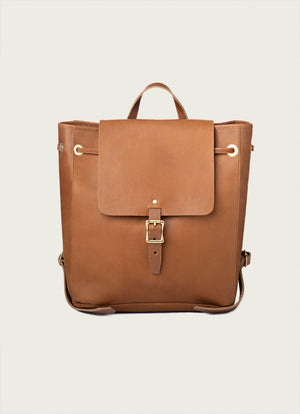 The Midland Backpack


A leather backpack that's the perfect size for your everyday hustle. It can fit your laptop as well as whatever accessories you need from day to evening. This sturdy leather backpack is a robust companion that will stay with you for years. Add a monogram to let them know it's yours.
• 100% Full-Grain Leather
• Brass Hardware
• Leather Straps
• Copper Rivets
• Adjustable leather straps
• Internal zipper drop pocket
• Grab handle
• Length: 13"
• Width: 6"
• Height: 14"
• Weight: 3lbs.
Featured In




#WP&ME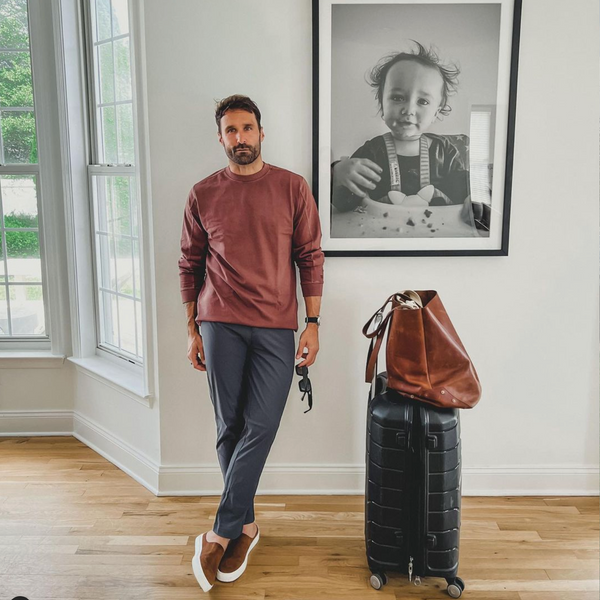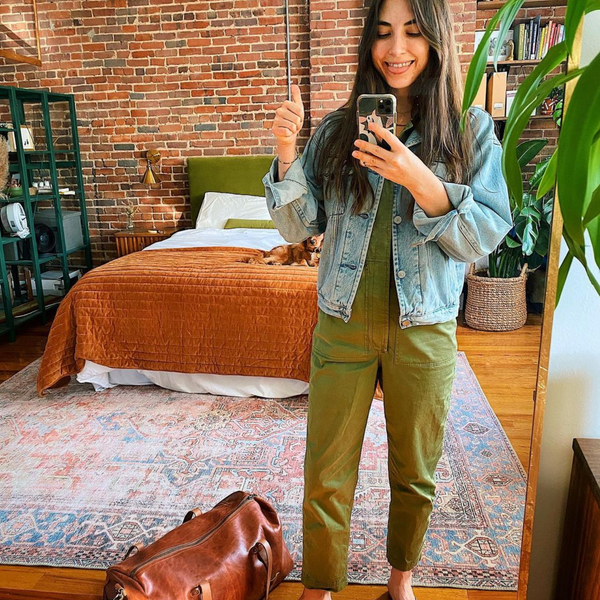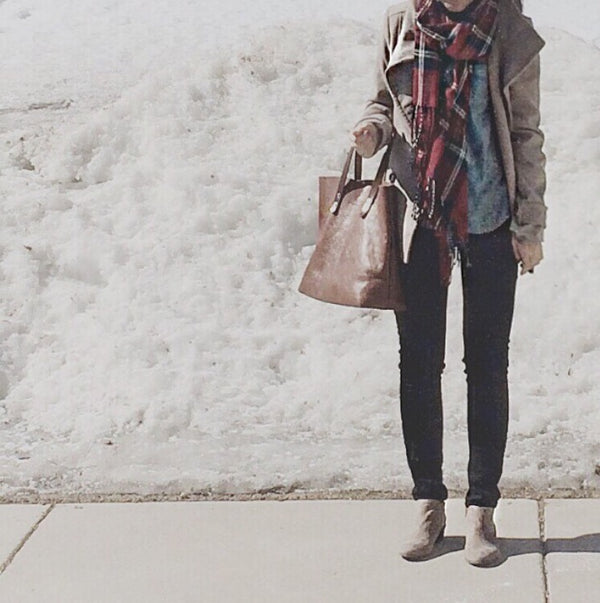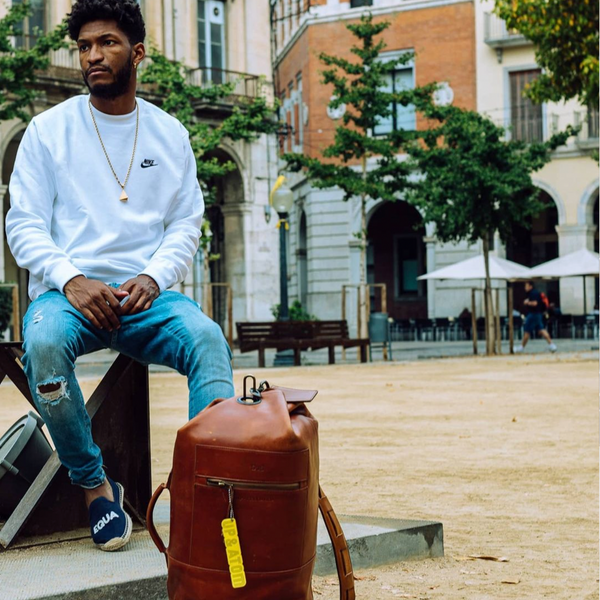 Reviews
Customer Reviews
Write a Review
Ask a Question
07/10/2023
Ayonna R.

United States
Love it!
The Midland backpack has so much more room than I expected & I love that! The details are so chic, classic, & cute! The whole style of the bag is right up my alley! I would usually gravitate towards the tan color but I stepped out of my comfort zone & purchased the olive color & I'm so happy with my decision:)
04/03/2023
Heather S.

United States
Love this backpack
I love the style of this bag. However, it arrived with a dent in the top flap. I was able to mostly buff out with leather conditioner. Leather is good quality but very stiff even after conditioning.
03/16/2023
Elizabeth C.

United States
Amazing!
I am in love. I have had many brands of leather purses/bags and this is by far my favorite. I love the space and the ease of use.
02/16/2023
Dorothy W.

United States
My All Around Bag
Oh my, I carry my bag everywhere. I love this bag, and I've found out, it's an all weather wear bag
01/16/2023
R. Mark Lockwood

United States
The Midland Backpack Christmas
The item was purchased as a gift for my wife. She absolutely loves it. Our son bought her the cloth insert and this gift paired has become one of her favorite bags. I have been told I did good, which for a fellow who knows nothing about this type of item for a woman is pretty good. So gentlemen, if your lady has a craving for quality leather and outstanding craftmanship this item maybe for you.
11/18/2022
Lisa D.

United States
Lovely
This is my fourth purchase from WP. As all WP products the leather is beautiful and products are well made and sturdy. My first purchase was a tote, which I adore! I always get compliments. WP is a high quality leather producer of beautiful pieces of art.
09/30/2022
Elisabeth R.

United States
Review after 2 years of use
I bought the Midland backpack 2 years ago as a daily carry for work, and it has held up beautifully. The leather has softened up with use, but it still pretty much looks brand new. On most days, I carry my wallet, my iPad Air, keys, maybe a small waterbottle, planner, a pen pouch and my lunch. I also sometimes shove a change of clothes in there for the climbing gym. I've also figured out that because of the draw string, I can clip my climbing shows to the outside of my bag on the side for gym days. I will say that sometimes at the end of the day my shoulders are a little sore but that's probably because I'm carrying more than this bag is technically designed to carry, but everytime I think of switching to a bag with more robust shoulder padding (the only thing I wish this bag had more of--maybe felt padding???) I can't find one that I love the look of as much as the Midland backpack.
09/16/2022
Sammy C.

United States
The backpack is perfect
The backpack is the perfect size to wear doing my shopping and leaves my hands free plus it cannot be entered easily if someone tries to get into it while I'm wearing it.
09/10/2022
Rita W.

United States
I like the bag but…
I like the bag but…I wished there had been more description on the variance of leather in color. The tan, chocolate, & black all are done in smooth leather but the olive is done with more pebble leather panels. I realized this as I went back& blew up the photos of each color. I'm not a leather aficionado I just like full disclosure of what I'm paying for. Thanks
08/26/2022
Kathy F.

United States
Absolutely perfect
I've been using my Midland Backpack since I took it out of the box. It's the perfect size and fits just right on my back. The leather smells amazing and I can't wait to see how it softens and breaks in. Really happy with this purchase and all of my WP Standard purchases.
07/29/2022
Therese D.

United States
Olive Midland backpack
Love this backpack. I can't say enough good things about it. The leather is amazing, the color is beautiful, big enough to carry all my stuff but not so big that you can't use it as an every day carry. I highly recommend WP Standard. The quality is top notch.
06/23/2022
Debby

United States
Better the second time around
I first ordered this bag in the tan color. For me, the tan leather, although beautiful and my preferred color, was too structured and stiff for my liking. I contacted customer support and was told that the olive is a softer leather so I did an exchange. Definitely softer leather. I wanted this bag to use as my personal item for air travel. And I think it will work out great. Fits iPad mini, air pods, chargers, book, neck scarf (for sleeping) and my thick socks. Plus extra room for a few small snacks. Glad I did the exchange. It's a keeper.
06/18/2022
Connie C.

United States
Great quality
Leather is soft and high quality and the bag looks even better in person!
04/21/2022
Marie B.

United States
High quality leather!
Shipping was super fast on my bag. Opened the box and was welcomed with rich and beautiful leather. Since the day I purchased I have used my bag as a daily carry. It's everything thing I could imagine a nice leather bag to be. Size is just right. WP standard knocked it out of the park with this one. Will remain a lifetime customer of this company.
03/28/2022
Margaret S.

Canada
Cool and elegant
My new backpack is the bomb. It looks stiff and study, but is surprisingly soft and easy on the shoulders. Great quality, and I think it will weather nicely. The inside has a place for passport, little notebook, etc. I expect to have it a long time.
03/24/2022
Mindy C.

United States
I found my forever backpack!
I am so obsessed with this backpack - the leather is so beautiful and soft (and smells amazing) and the hardware adds a modern and elegant touch. It's the perfect size to fit my 13" laptop in for work and the shape is super flattering. I I feel like this backpack will last forever - Highly recommend this backpack!