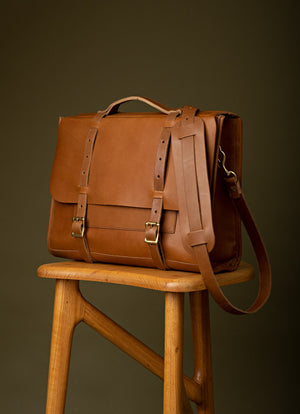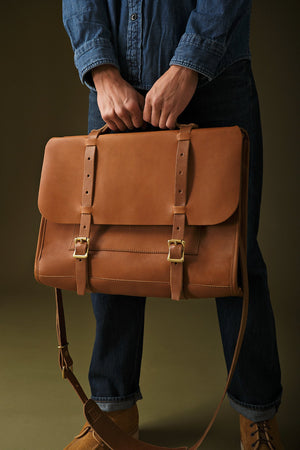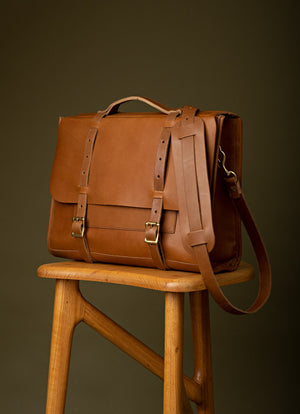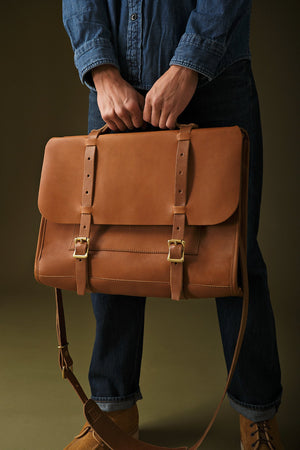 The Meridian Messenger Bag

The Meridian Messenger bag is a throwback to antique leather work bags but updated for modern function. The messenger bag includes a laptop compartment as well as an interior zip pocket. Our full-grain leather provides a foundation that will age beautifully with time and use.
• 100% Full-Grain Leather
• Solid Brass Hardware
• Pigskin Lining
• Adjustable strap with shoulder pad
• Padded laptop compartment
• External pocket
• Width: 16"
• Height: 12"
• Depth: 4.75"
• Weight: 3.2lbs
• Pictured with a 15" Macbook
Featured In




#WP&ME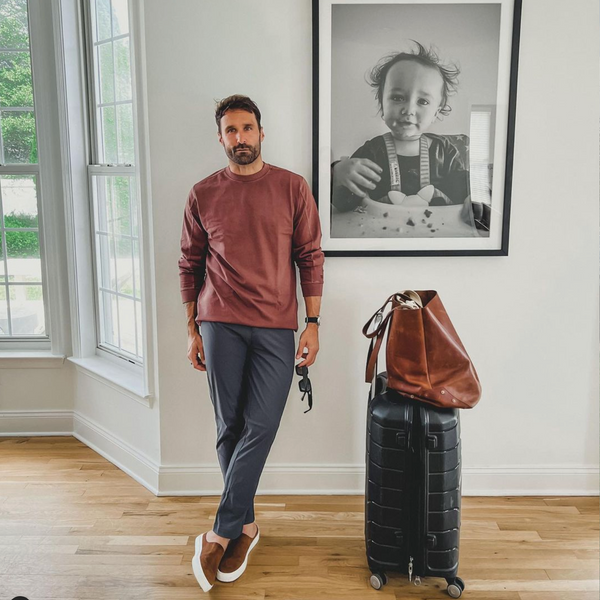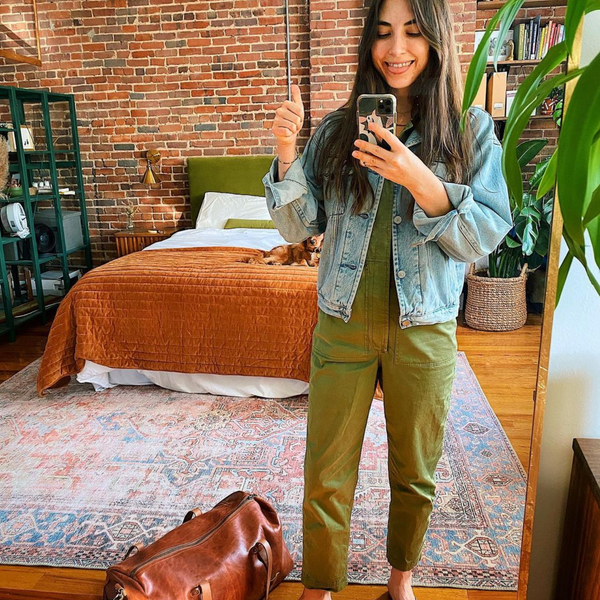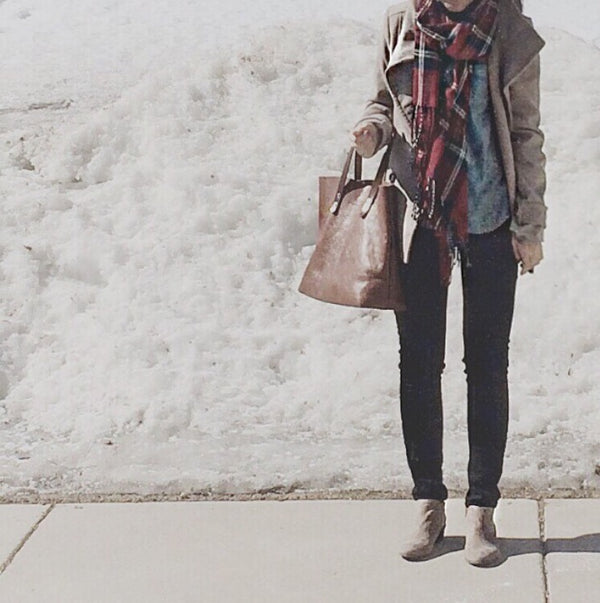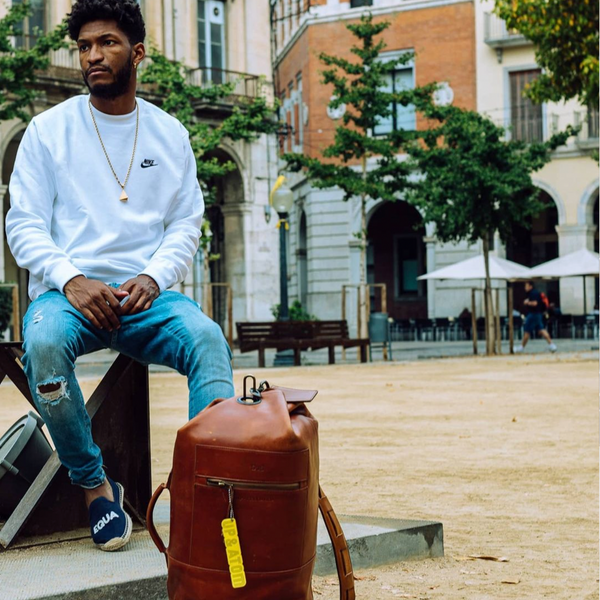 Reviews
Customer Reviews
Write a Review
Ask a Question
11/05/2023
Emily K.

United States
Finally!
After purchasing multiple leather messenger bags through the years for my husband, we finally have what he's been hoping for! Excellent quality, robust construction, roomy for his overpacking international travel tendency, smells amazing, and looks gorgeous. We will be buying future leather goods from your company.
09/24/2023
Bryan C.

United States
Finally selected!
I've had my eyes on Messenger Bags for decades. Fine made Bags both made in Europe and in the United States- I always take time before deciding which purchase to make because often times Manufactures will Sell products that are no where near there worth! Along with WP Standard, I also had other options to choose from but made my final decision with WP. I felt it awesome to be able to purchase a High Quality Leather Bag, Well made to say the least, without having to brake the Bank to do so! Well done WP!
01/03/2023
Israel G.

United States
Worth Every Penny
I use the Meridian daily for work. I will say the size was bigger than anticipated but not a con for me. The leather is so buttery. The fat wrinkles let you know it's a quality leather. The lining (I assume pig lining) is very soft and clean. The storage as far as pockets and zipper pouches etc is minimal. However, I use a large laptop sleeve which has a zippered pouch attached as a divider which helps manage my iPad and smaller items. It is built to last. Although I want a second one I don't see myself needing one anytime soon. It's great compared to other on the market and a fraction of the price.
10/29/2022
Nicholas B.

United States
What a Bag
I love this bag! I've been wanting a leather messenger bag for years. Glad to have such a high quality bag and to know exactly where it came from. I love knowing that my bag was made by hand. I got the tan and I love it. Plenty of bags on the market it assorted shades of brown but very few in tan. My only complaint with the bag is that I wish there was a little more built in storage. The padded laptop compartment and zippered inner pocket are welcome, but an additional zippered pocket and some pen holders would be appreciated.
03/11/2021
Mario S.

United States
Simplemente excelente
El artículo superó mis expectativas .100% recomendable
01/10/2020
Chris G.

United States
Very Good Customer Service
The company is very good at dealing with customer service issues when they arise. I had an issue with my purchase and found them very responsive by email, friendly and most importantly, resolved the issue.
Stylish & Sturdy
I use this bag daily and carry some heavy text books in it. It handles the stress like a champ. It's breaking in beautifully. I love the no frills style with the tasteful vintage touches. Looks great. Feels great. Smells great (if you like the smell of leather). My favorite daily carry (probably of all time).
Love
Thank you so much for creating such a beautiful bag! I bought it for my husband birthday and he absolutely loves it!!!
A very good choice
I'm trying to find a bag for commuting. It needs to be able to load my mbp, kindle and some papers. This bag is suitable for these, and is very durable and beautiful. Another advantage is that it will change over time, so you don't have to worry about maintenance, just use it as much as you can. I am very happy to choose it, and I think it will accompany me for many years.
Sturdy
Seeing as I was looking for a 'bag for life' having grown tired of throwing away worn out accessories, this bag is in its early days but looks set to be a sturdy companion for many years - and I hope decades - to come. Design the way I like it, simple, no frills, solid.
Quality
I bought this messenger bag assuming it was well made and it was. I'm proud to own it, proud to wear it and will be for may years to come.
Heavy duty
This is a pretty heavy duty messenger. It doesn't feel like anything you touch in the stores. Though I like it, it is pretty heavy.
Solid work bag
I travel a lot for business and bring this bag everywhere. Slides under airport seat nicely.
This is my favorite bag
I had a bike messenger bag I like but decided for work to upgrade to leather for a more professional look. This bag hasn't dissappointed.
Holy Grail
I had been looking for the right vintage mens leather messenger bag for quite some time until I stumbled up on this. It has the exact modern take on a classic look that I have been looking for. Purchased it and when it arrived it did not disappoint. This thing feel well made and it looks liek it is built to last. My laptop fits perfectly in it as well and there is still plenty of room for my daily carry. Beyond thrilled with this purchase.