The Cargo Tote Bag
Our Cargo Tote Bag strikes the perfect balance between form and function to create a dependable everyday tote bag. With external pockets and an internal drop pocket, this bag offers plenty of capacity. Perfect for the weekend getaway or pulling double duty as a work tote to hold electronics, books, or tools. Sturdy full-grain leather construction ensures this tote lasts a very long time and gains character with age and use.
• 100% Full-grain Leather
• Two external pockets
• Internal drop pocket
• Beautiful finish that gets better with age
• FREE Shipping and FREE Returns
• Comes with a lifetime guarantee on repairs
• Width: 13.5" at base, 21" across the top
• Height: 13.75"
• Depth: 4.25"
• Handle drop: 10.5"
• Weight: 2.8lbs
Featured In







Storage
Roomy build with 3 pockets to keep it all organized.
Our Philosophy. Try Risk-Free.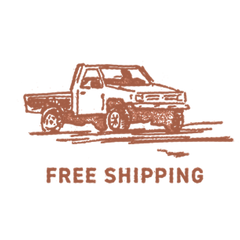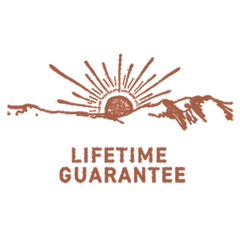 Monogram
Add a 3-letter Monogram to personalize your bag.
In the Wild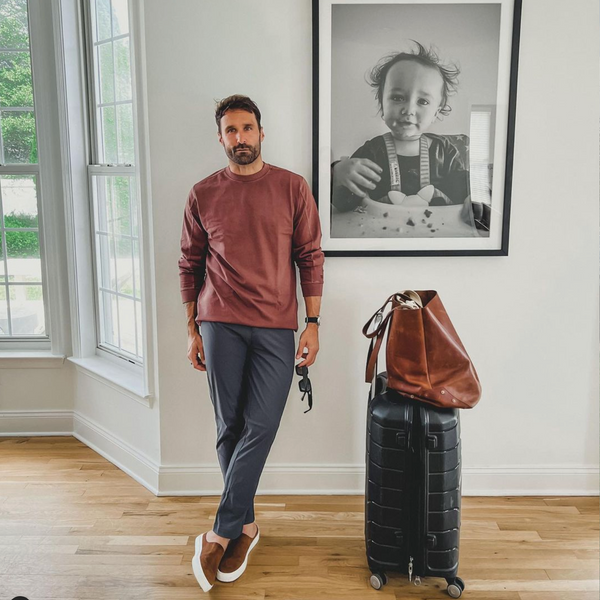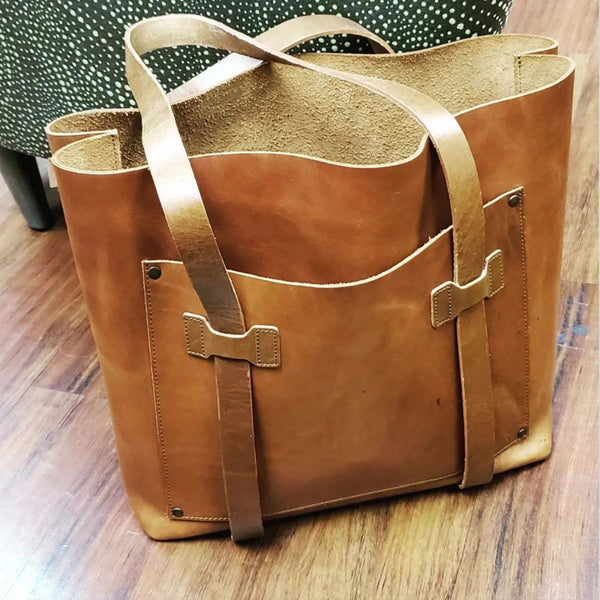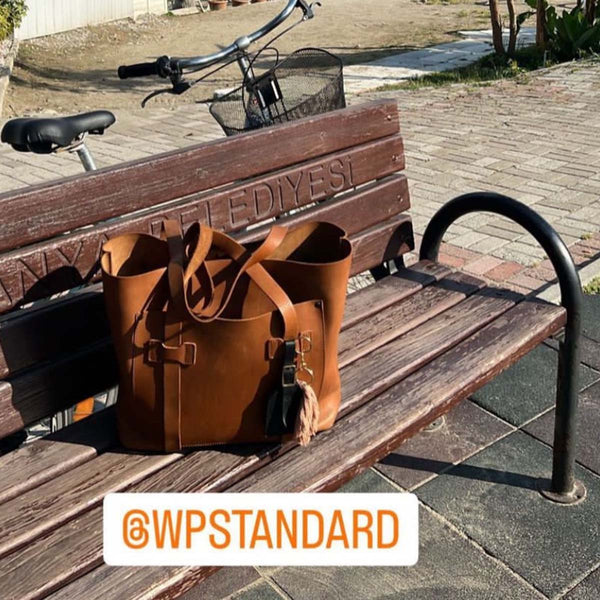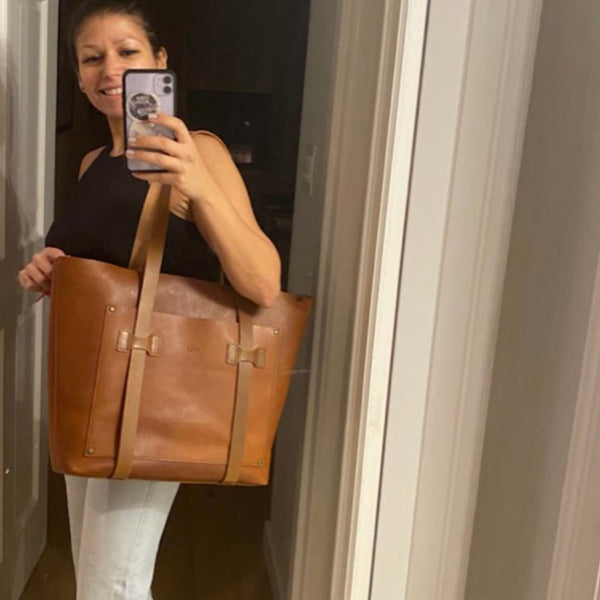 FAQ
How quickly will I receive it?
All items ship within 48 hours.
What is your return policy?
Can I customize?
Reviews
Customer Reviews
Write a Review
Ask a Question
12/04/2023
Ruth D.

United States
My 10th TENTH tote!
I love these bags. I have one in every color. I use them as my pocketbook but also have used them for my library tote, groceries, carry-on for vacation... they are made beautifully and I tell anybody who asks or comments on the bag that it is the best quality for the price they could ever find.
11/20/2023
JR M.

United States
Customer Service fail
Long time customer. Love the Cargo Tote and emailed several times requesting it in Black. Happy to see it now on the website. Ordered it in black immediately. Two days later, a 20% sale was offered. I asked Customer Service to apply the 20% discount and they refused. Twice. I had to order a 2nd tote (with the 20% discount) and will return the first tote once I receive it. Too much trouble and drama when any other company would have just applied the 20% off coupon when requested. Especially for a loyal customer. Nori was not helpful…at all.
05/29/2023
Lisa P.

United States
Beautiful bag. Perfect size for my work files, laptop and other things I tote to the office daily. I just love it.
Couldn't have been any better.
05/18/2023
Rachel C.

United States
OMG!!! Perfection!
I absolutely love my bag! It's so roomy, durable and a great timeless piece. My questions were answered promptly and I received my bag so quickly. I will be sure to sing the praises of my new bag to everyone I meet. Thank you!
05/11/2023
Cesar F.

United States
Pictures do not represent real product
Bad. Pictures show sturdy and hard handles. Product arrived with soft and inferior looking handles. Customer support says product was changed due to customer reviews. Well, the pictures should reflect the changes. They are misleading as is.
05/09/2023
Santaiveus R.

United States
The perfect beach bag
It's amazing holds everything and you get non stop compliments. If you want to look like a professional get this bag!
04/22/2023
Camilla H.

Norway
Cargo tote❤️
Best bag ever!! Love The size, The color, how incredible soft and comfortable the straps over the shoulder couldn't be happier ❤️
04/10/2023
Krystal O.

United States
Beautiful!!
I saw this bag on social media and immediately had to have it. The look is so unique and yet it's still such a simple tote bag. A staple workhorse for every day use. When the bag arrived I knew I'd made the right choice. It's absolutely beautiful. The leather is a rich honey color and it has striations and other characteristics that I've come to love with full grain leather goods. The bag is huge and holds everything I can imagine plus more, but the straps don't make it feel too heavy. They're so soft and floppy, making it feel lived in already. I'm so excited to see how this bag patinas over time. It's definitely my favorite tote now. Worth every penny.
03/30/2023
Laura Z.

United States
Beautiful bag!
Gorgeous bag. So great for everyday use.
03/09/2023
Nichole

United States
Get this tote!!
This tote bag is beautiful I stared at it for weeks before buying it. My order was shipped quickly once I placed my order. I LOVE this bag!!! It is very high quality and smells wonderful!! This tote is very roomy with ample space for all my "purse" items plus a lunch, water bottle, and a sweater. I have a new favorite bag❤️
02/25/2023
Alicia P.

United States
LOVE this new Cargo Tote Bag!!!!!
This bag is absolutely perfect for my needs! Travel, work and overnight stays. This is my new go to lifetime bag. Can't wait to break it in!!!! Plus the personnel at WP were extremely helpful and prompt with my questions. Never been happier!!!
02/18/2023
Eileen B.

United States
Love it!
It's exactly what I was looking for. Beautiful leather, wider base works for carrying lots of things, computer fits well, and great pockets, but not too many. Highly recommend.
02/06/2023
Melanie C.

United States
Better Than Expected
I'm so used to ordering items online only to be disappointed upon receipt. Well, this bag did not disappoint! It is beautifully handmade and even better than the photos. I can't wait for it to get better with age! Worth every penny.
01/23/2023
Lauren B.

United States
The most exquisite bag - this is your sign - just do it!
I have owned leather bags before but not one like this WP Standard. I hesitated to pull the trigger based on cost however I always find it true - you get what you pay for. The leather is absolutely exquisite. It is soft, beautiful, and smells amazing. The straps are so soft they don't hold their shape, which was a very pleasant surprise to me. The bag stands on its own thanks to an extra layer in the bottom, which I appreciate. The size is perfect for every day use but I also anticipate being able to cram so much stuff in it when I use it as a carry on for an upcoming trip with two small children. The pockets are great - I don't feel like the pictures show it well but the back of the bag has a large outside pocket just like the front! The small inner pocket is perfect for a phone, small wallet, easy access chapstick, etc. I rarely write reviews but I felt like I owed it to WP Standard to write one because they have really gone above and beyond with quality — perhaps why they offer a lifetime guarantee! They really ARE the standard.. that most don't live up to. Happy shopping!
01/11/2023
Kathryn S.

United States
A perfect on the go bag
This is the perfect shape, size and material for a busy mom who wants to be able to use a handbag that is cute, but also very functional. I need to be able to use my handbag for heavy use, but I want a bag with structure and not devolve into becoming a version of a schlumpy bag lady. I'm excited to use this for years to come.
01/10/2023
Amelia B.

United States
Beautiful, one flaw
Loving this tote! Fits my 15" laptop and the straps are the perfect length for commuting in NYC. My only critique is that the straps are made of soft leather that falls to the floor when set down. Not as pictured. The way it's constructed, it's an easy fix if you're handy and looking to seek out the solution.