ENTRY 040
14 Fun Leather Facts That We Know You Will Enjoy Reading
Having worked in a tannery before, I was surprised at how a stinky, heavy, and wet animal product was able to be fast turned from the funky material it was into the soft, dry, pleasant smelling, and tough material to make leather.
I am very curious about things, and as my mind is a sponge, I set out to read and get to know as much as I could. As a result, I actually learned plenty of interesting tidbits.
Let's explore some of the most interesting leather facts that maybe you never knew either?
#1 Third Anniversary Gift Is Leather
Leather is a perfect gift for your third marriage anniversary. It was a common gift long ago, and for a good reason.
Leather is tough, durable, and yet flexible. Traditionally, it symbolized your marriage resilience, your ability to adapt, and the fact that by three years on, you were truly committed.
You had gelled, bonded, and hence, solidified your togetherness as a couple!
By the way, if you know a couple that is celebrating their
3rd wedding anniversary,
you won't want to miss our page specially devoted to
#2 Using Leather in Your Own Craft Work
Did you know, that in the 1970s, there was a massive leather craft craze? For all of you old enough to remember the fad, infomercials were rife at Christmas with leather tool kits.
The idea was one member of the family bought another member a wallet as their present. Then, another member bought the tool kit for the same person.
The recipient of both gifts then went to work designing their leather wallet with their initials or beautiful custom elements like flowers, shapes, and even animals.
They were definitely really special gifts to have, and provided long lasting memories.
#3 Cool Things To Make With Leather
I don't even know where to start on this one. I am truly amazed at what people can make and do make with bits of leather.
Indeed, there is a never-ending supply of leather crafting facts. But here are a few I can think of right away.
When I was young, I was given a present that I still have hanging on my living room wall. It is a dream catcher made from soft leather pieces with blue feathers dangling down.
I have seen extraordinary belts hand designed with the wearer's favorite artwork, complete with large ornate buckles, to be worn as showpieces.
Make your own custom dog collar. Your pooch will be the talk of the town!
Of course, as I said earlier, everyone was making their own wallets and matching keychain sets.
I had a girlfriend once who cut out flowers on her leather hippy bag, and added colorful beads in the middle. It was great fun!
This might not be the old-fashioned hippy bag you remember, but if you have plenty of things to carry, and a purse isn't quite right, our chic Vintage Tote Bag will be perfect. Take a look for yourself...
Using leather in your own craftwork has never been so easy. Today, there are many online sites, such as Pinterest, that help you nurture your inner DIY skills, and take your leather craftsmanship game a notch higher.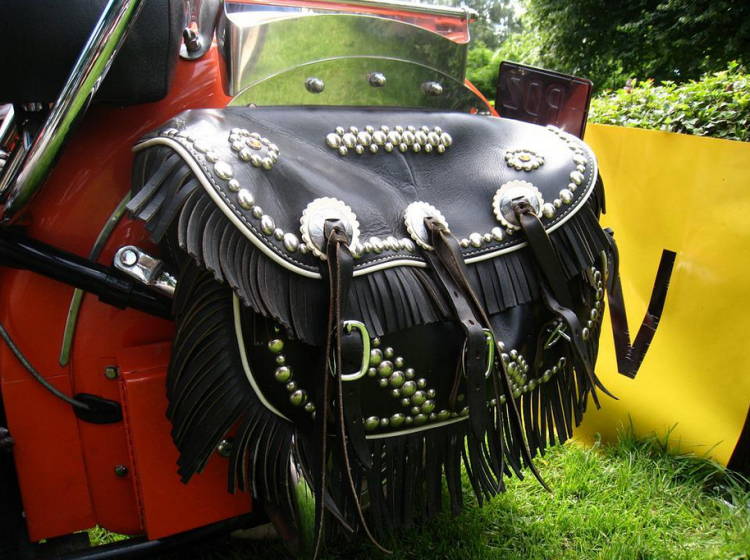 #4 Leather is Biodegradable
Leather is a natural resource, and as such, a renewable product.
Besides, it is the best option compared to non-renewable man made leather which is not easily degraded, if at all.
The earth is cleaner and more sustainable when you use what nature provides!
#5 Squirrel Leather is the World's Most Expensive
Leather is generally made from the skin of domestic animals. The world's most expensive leather, however, is the tanned noble leather from a squirrel.
In fact, the dearest leather is actually made from a squirrel's tail.
Unlike the typical leather which is removed from an animal's back, squirrel leather made from the tail, was once used in the making of billfolds and revolver holsters.
#6 Origin of Leather
The name "leather" is from the Latin "labium", defined by some botanists as the same as "Laburnum anagyroides" (leopard-claw ivy), which is known in English as "Laurel".
#7 Leather Is Made From Fish
Fish leather is strong enough to be used in the cloth and tent-making industries. Additionally, it works as a lovely decoration in different types of designing. I actually saw a blue leather tote bag made of fish leather when I was visiting Brazil.
#8 Excellent Material for Bookbinding
Quite common in medieval times, bookbinding materials were mainly comprised of leather.
Pig hide leather is popularly known for this function since it is cheaper compared to cowhide.
And yes, using leather for bookbinding is still prevalent, and a practice which continues today.
I find it quite thrilling to go to the library and read some of the gorgeous leather bound volumes of old works.
#9 Fashionable and Practical
As early as the 1800s, there were books and articles on how to use leather for clothes.
Notable examples of such books include "Leather" by George J. Gould and Catherine E. Lathrop, published in 1874.
You may recognize the family name Gould, as they were one of the richest at the time involved in the railroad industry.
#10 The Art Of Leather
Leather was once used in art. Not only as a painting canvas, but also as a stylish wallpaper in itself.
Indeed, many offices of rich bankers and industry leaders had walls covered in leather to show off their wealth.
#11 White Leather Is the Most Difficult To Produce
Not all leather qualities can be dyed white. Only the best quality materials can accept the white dye without leaving any noticeable changes.
Conversely, using low-quality hides may expose the material to cracking and stiffening.
#12 Leatherette Is Not A Grade
Leatherette is not leather at all. It is a cheap alternative synthetic.
Also called vegan leather by some, or even faux leather, it is the current alternative to genuine leather.
Faux leather is often made from plastics, then treated in wax and polyurethane, then dyed to create the color and texture of real leather.
#13 The Smell Is Intoxicating
Have you ever heard someone say "I love the smell of new leather" when they buy a car or get a new pair of gloves?
It is a luxurious feel and fragrance that many people enjoy. It is a distinct and sought-after sentiment.
The truth about most leather products, in terms of leather goods facts, is millions of individuals simply feel euphoric about touching them, smelling them, and owning them.
#14 Faux Leather vs. Real Leather
The main difference between these two pieces of materials is in their uniqueness and texture.
With real leather, you are likely to see visible veins and pores that make various contours that give it its exclusive look and luxury. Faux leather, on the other hand, is uniform without any pores or veins. Although it is possible to drill these pores on them, they will be uniform, unlike the real leather which doesn't form any particular pattern.
Real leather is made to last incredibly long. Compared to vegan leather, genuine leather lasts for years without any apparent damage. This is unlike faux leather which damages and cracks over a short time period.
Fake leather gets thrown in the garbage when the user is done with it. Leather items might also, but because leather biodegrades, it doesn't leave a footprint. Synthetic, plastic materials sit in landfills for hundreds of years.
Generally, the difference between real leather vs faux leather lies in their hallmarks and durability.
Faux leather is really cheap, both in workmanship and materials, compared to the beauty of real leather.
To be honest, you really have to examine all the vegan leather facts closely to conclude it is more wise to go with bonafide leather.
To hear more details on the discussion between faux leather vs real leather, take a peek at this video. The fellow has done an excellent job of showing the quality, durability, and real facts about leather.
Now that we've completed our section on leather fun facts, it might also be interesting to have a look at the other things you may not know about this topic.
Quick Leather Industry Facts
What Is Leather Made Of?
Essentially, leather is made from animal skins and hides. You can make leather from the skins of domesticated animals such as cows, horses or sheep, or undomesticated such as fish and crocodiles.
These skins and hides are treated with chemicals through a process called tanning to make the leather suitable for various projects such as making coats, footwear, purses, car seat coverings, dog leashes, pen covers, and utensil handles.
Where Does Leather Come From?
Unbelievably, leather can come from almost any animal, larger birds, or aquatic creatures. Whenever a hide can be cured, it can be used.
Where is Leather Manufactured?
Predominantly, India and China are the largest producers in the world. Specifically, leather is manufactured by tanning companies.
Why Does Leather Last So Long?
I find this to be one of the most interesting facts about leather - the idea that something can last a lifetime, and still maybe, be good enough to pass on to someone else.
The tanning process typically takes one month for grain leather, and three to four months for full-grain, making it one of the world's longest-lasting natural materials.
This makes leather a strong, tough, and long-lasting material, capable of surviving various temperatures and conditions for many years.
How Much is the Leather Industry Worth?
The leather industry globally rakes in a sum total of more than $53.8 billion annually.
So, if you wanted to know the real worth of the leather industry, there you have it - ten figures, and still growing.
The fun fact is that when you combine the sale of rubber, cotton, coffee, tea, sugar and rice, in a year, their cost cumulatively would still not equal that of the leather industry.
Also, of the 53.8 billion dollars valuation, a big chunk of it, (about 60%) represents the sale of footwear.
Conclusion
Finally, to sum up our discussion on interesting leather facts, I'm sure that many of us agree that leather smells nice, is durable, flexible, long lasting, comfortable, luxurious, elegant, and serves a range of purposes.
Not many other materials can boast the same features and attributes.
---
Leather Guides ~ Everything You Needed To Know
You Might Also Like To Read ...