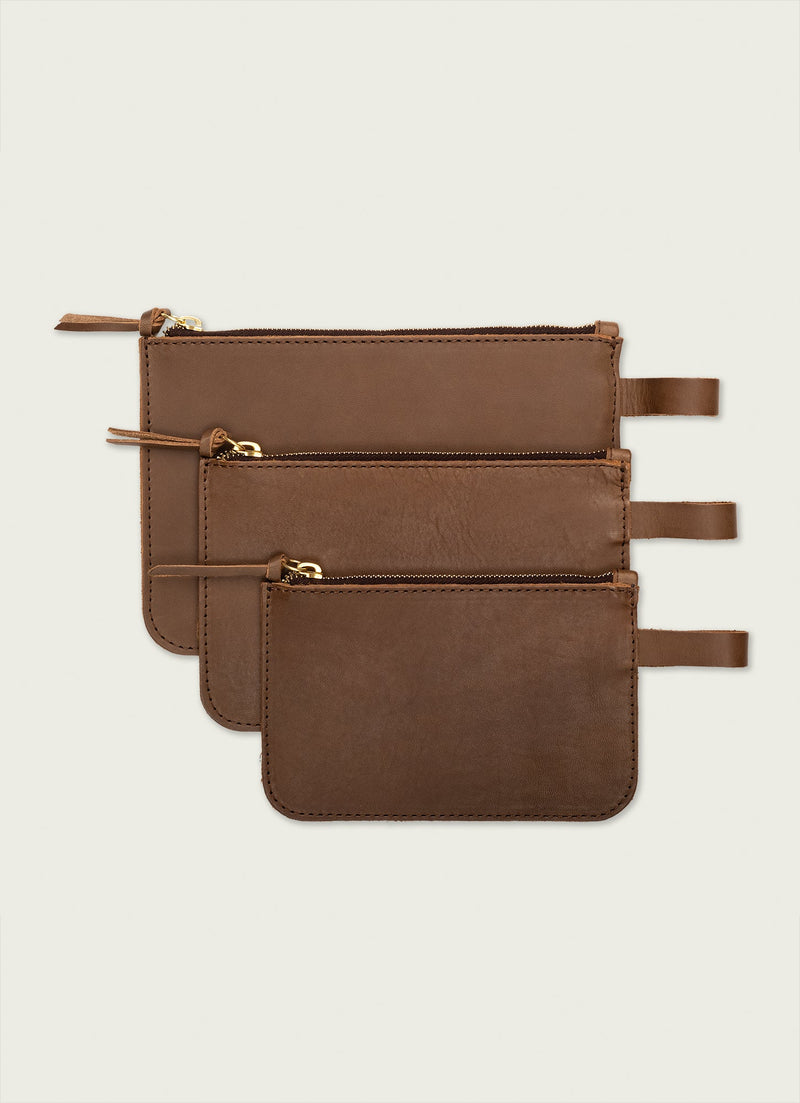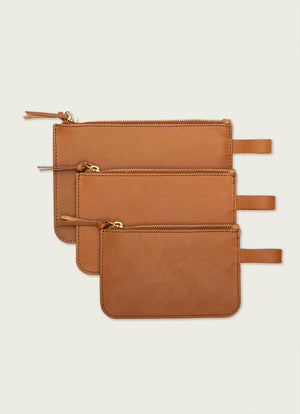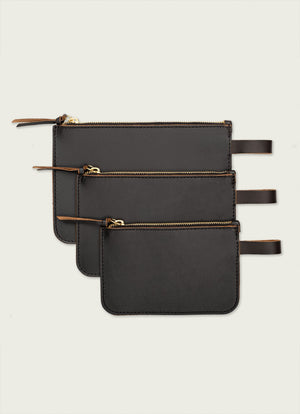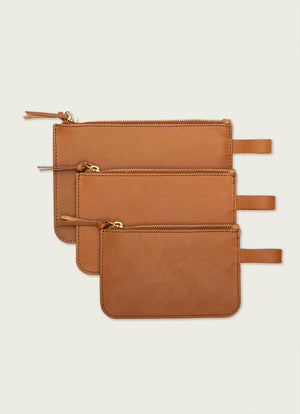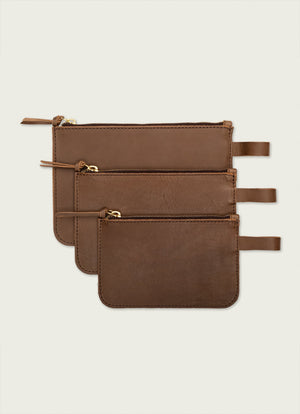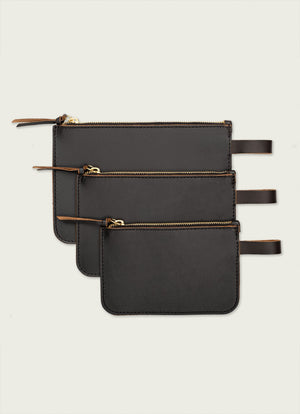 The Utility Pouches

These pouches are great for storing all the stuff in your bag that may tend to roll around at the bottom. Chargers, pens, chapstick, and coins. These are a set of 3 that come in 3 different sizes. Keep them all or give them away as gifts to 3 different sized friends.
Featured In




#WP&ME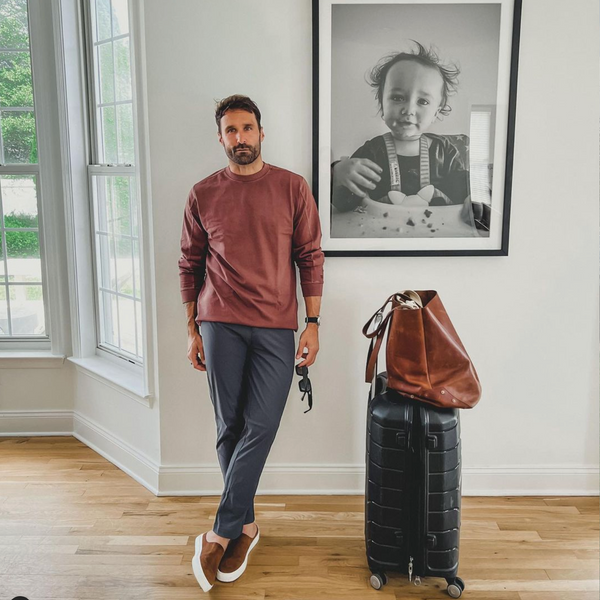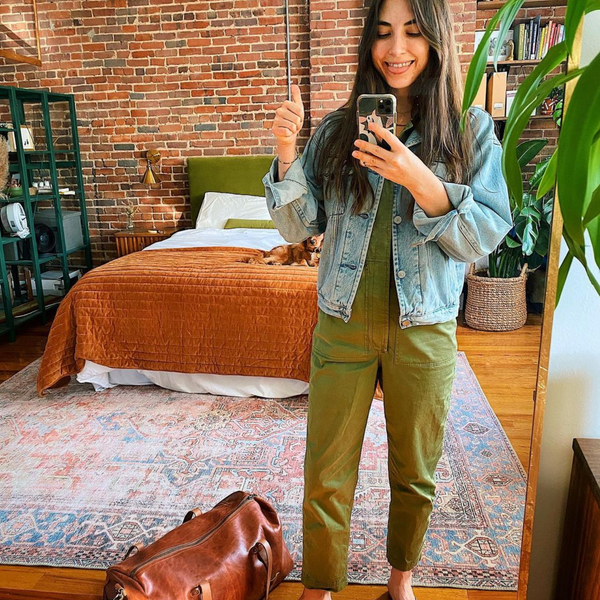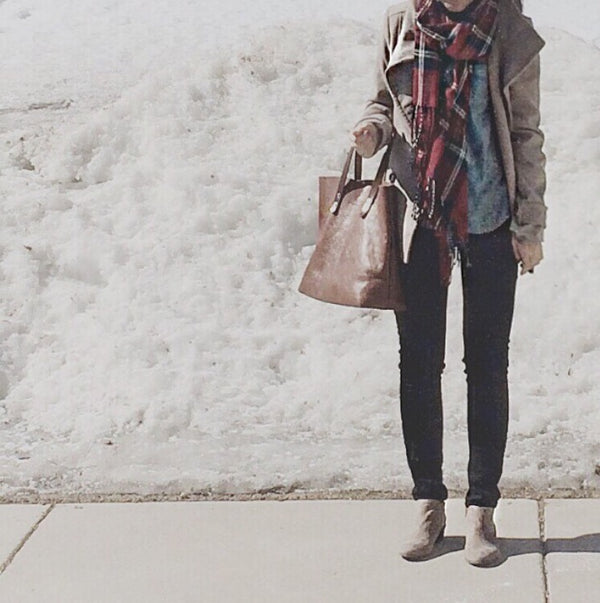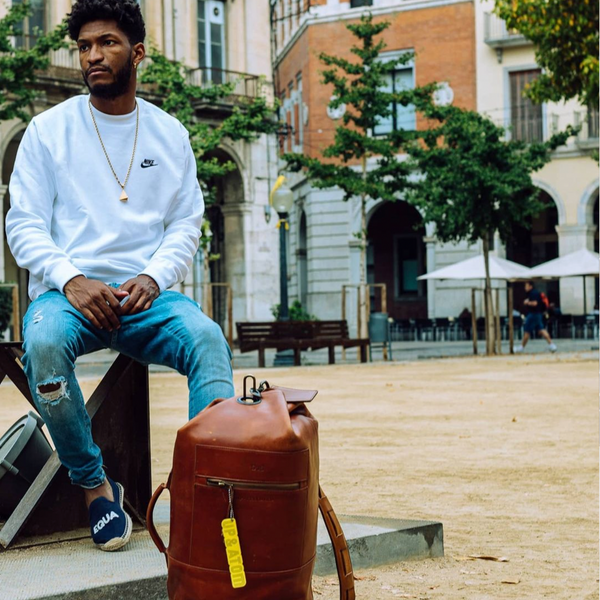 Reviews
Customer Reviews
Write a Review
Ask a Question
Exactly what a tote needs
These three sizes are great for all the loose items I would normally have to go on a search and destroy mission to find in my tote. Brilliant idea! Love them.
08/26/2022
Dawn H.

United States
These pouches are a great size, and absolutely gorgeous!
08/17/2022
Michael M.

United States
An excellent set of pouches.
This 3 pouch set is an excellent set of pouches. The 3 sizes provide flexibility in what you can use them for. Quality materials, excellent zippers and pulls and even small loops on the side for fastening them if you need to. They are unlined, but the interior is not so rough to damage anything. Excellent quality that you can pass on to the next generation. Very handy items.
05/19/2022
XIAOYI X.

United States
Amazing product
Good quality, practical, great for daily use and organization, highly recommend!!
05/17/2022
Scott L.

United Kingdom
It aight
Fit a Glock 23 wit no problem. Easy to carry on long patrols
03/07/2022
James N. Reid

United States
Really Nice Item
I'm a repeat buyer of this item. That tells the real story, doesn't it.
12/22/2021
Debra W.

United States
Love ❤️
I bought my first set three or four years ago. They were stolen just last week so I'm buying them again as soon as stock is replenished! Excellent quality you cannot go wrong with these. So yes I'm a returning customer and always will be!
12/04/2021
Trudy T.

United States
Leather Pouches
The utility pouches (3) were made of high quality leather and larger than I thought. I thought about giving them away but changed my mind when I saw them. I love them.
11/29/2021
Teri R.

United States
Keep me organized
Sturdy zipper. Nice feel. Would buy again
10/21/2021
RONALD A.

United States
Rea
Great size and leather...
10/06/2021
Susan W.

United States
Wonderful pouches
I bought two sets of these to go with my cargo tote and market tote. Very handy styles holds incidentals and are well made.
09/29/2021
Susan

United States
Handy pouches
I bought two sets of these- one to match my cargo tote and another in dark brown to match my market tote. They are the best. They zip nicely and are beautifully made. Great sizes for odds and ends that tend to get lost in a larger bag. I'm very impressed with this company and know the products will last for years.
07/21/2021
Patricia A.

United States
Don't lose the little things
I recently bought these utility pouches in tan. Love them!!! The right size. Sturdy and soft to the touch. Smell wonderful. And the zippers work!!! Nothing more annoying than you buy something and the zippers don't work. These work!!! These 3 little beauties are a godsend and I don't know how I functioned without them. Never lose anything in your tote or backpack again. I use these every day; 7 days a week and they become even more supple and beautiful. One for my laptop and phone chargers. One for wipes and hand sanitizer. One for my daily makeup that I walk with. Throw everything into my my Midland backpack and I'm good to go. Get them!!!
07/17/2021
Michelle H.

United States
Another great product
I've been a die hard WP fan/purchaser for over 10 years. The original Tote is still my favorite go to bag and own multiple colors. Love the backpacks, messenger bags and everything in between. Every purchase experience has been wonderful - timely delivery, wrapped and cared for products. Newest purchase are the pouches. Took me a while as I have expensive LV bags. Pouches arrived and Louis Vuitton are packed away. These are beautiful, quality is impeccable and I expect these to last a lifetime.
06/28/2021
marilyn j.

United States
Utility pouches set of 3
I love my new set of pouches, they are such handy and useful sizes. Great quality. I will definitely be ordering from this company again.
04/22/2021
Mesha J.

United States
Cute little pouches
I bought these to go with my traveler tote. They are the perfect little compliment. Only critique would be since these taper up the opening is quite small and they don't hold much. But I admit I do need to learn to pack lighter!