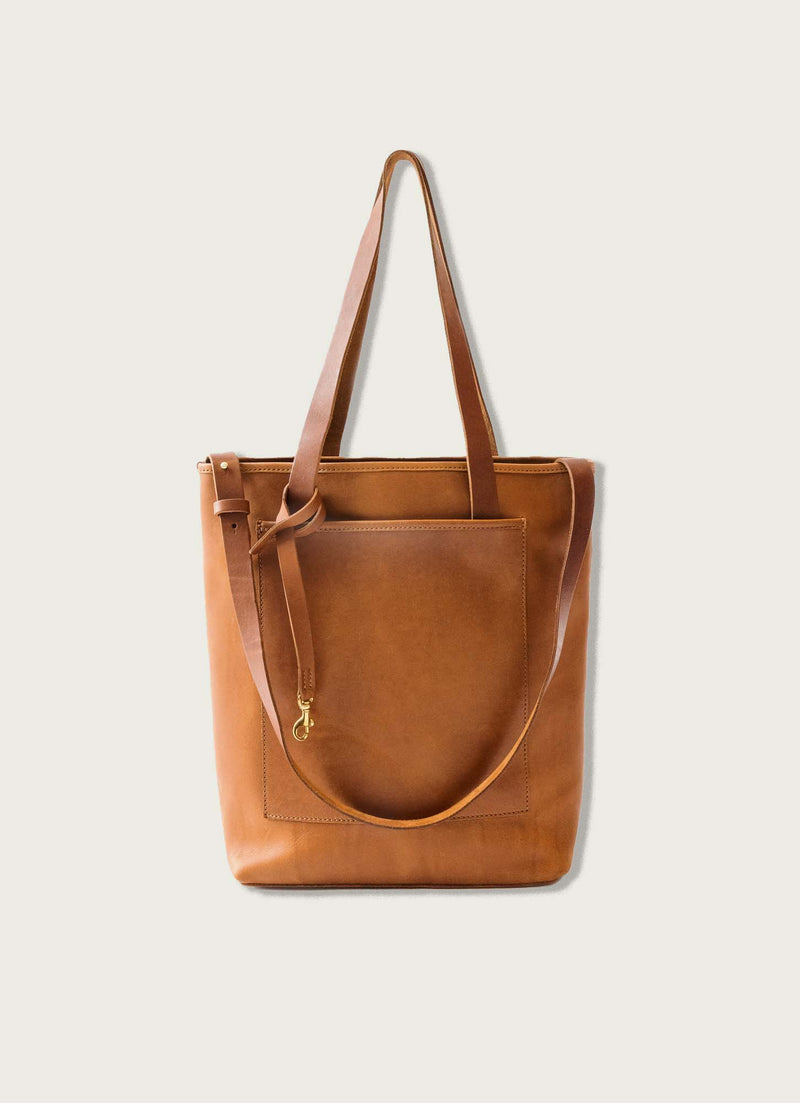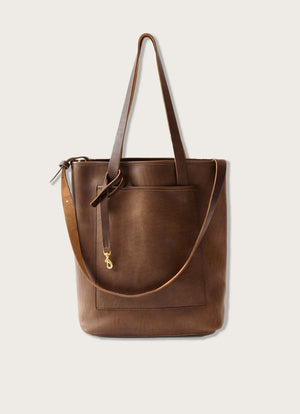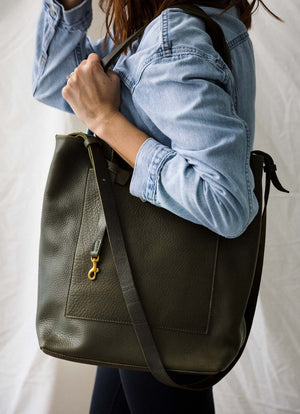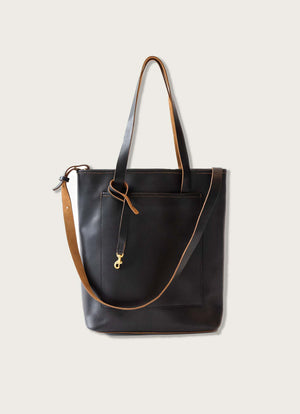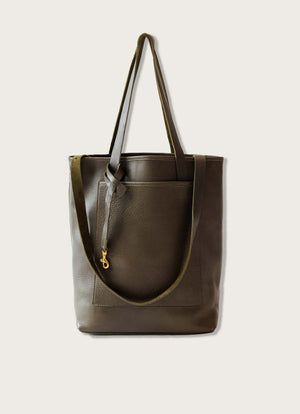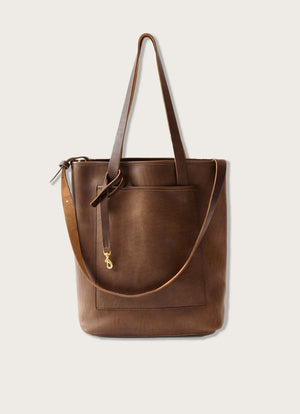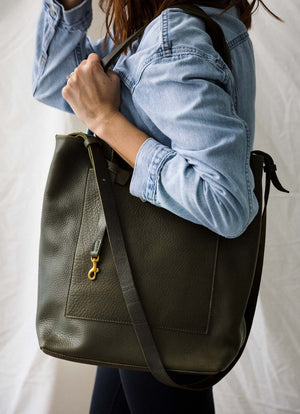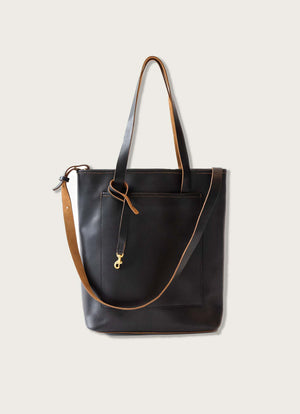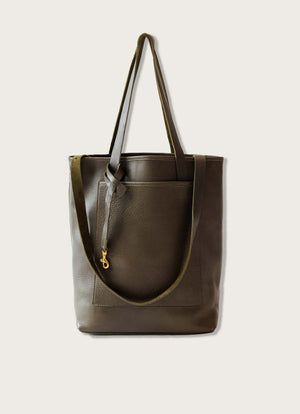 The Bedford Leather Tote Bag

The Bedford Tote bag is built taller and with an adjustable cross-body strap. The tote comes in 5 colors, all in our 100% full-grain leather that is soft, but sturdy. Carry it over your shoulder with the handles or use the removable strap. Accessory strap with solid brass hardware is included for easy access to keys, AirPods, or key ring pouch. This leather tote bag can carry a 15" laptop as well as your other accessories. 
Featured In




#WP&ME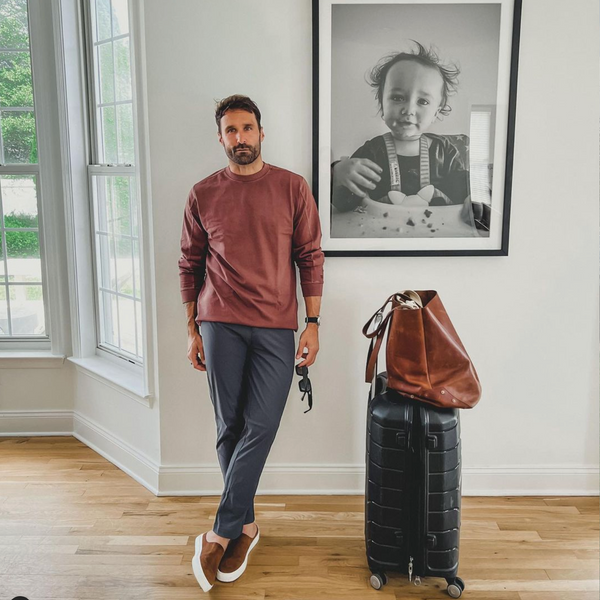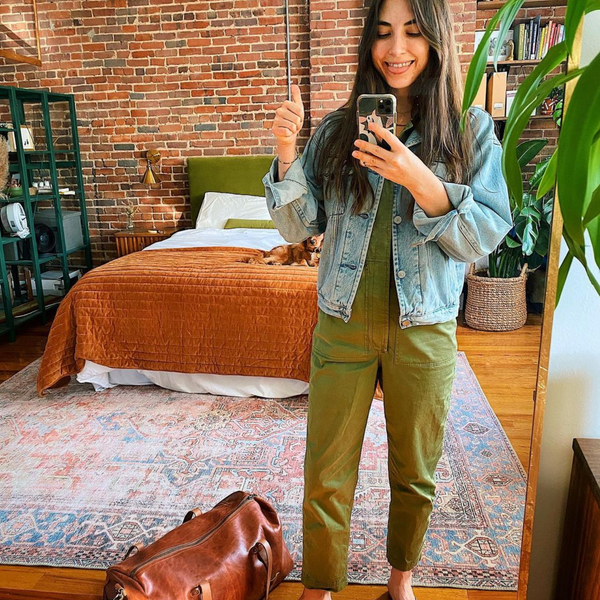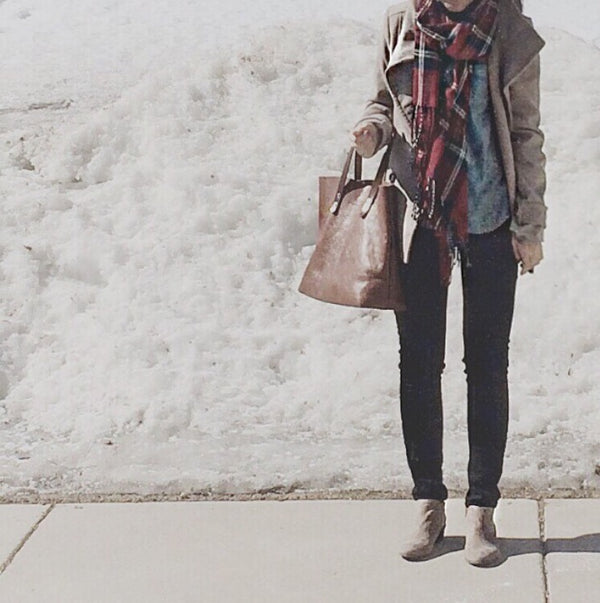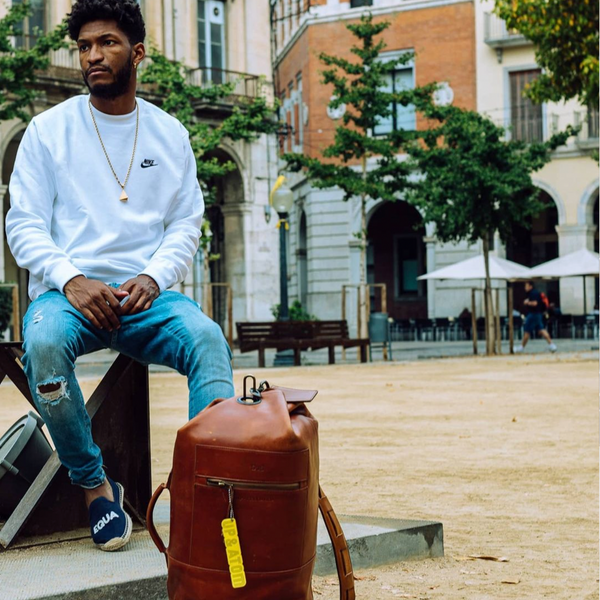 Reviews
Customer Reviews
Write a Review
Ask a Question
12/07/2023
Diane K.

United States
Great mom bag
Bought this as a no frills (don't need insulated compartments or a bunch of organization) diaper bag for now, but know it'll work great as a regular bag for years to come. Love that it stands up and isn't super floppy. Holds all I need and more. Really like the extra key hook and the raw side of the handles for grip. Got the chocolate brown color and it's rich and a great casual, but not too casual, color.
05/25/2023
Keri S.

United States
Gorgeous
This is the perfect leather tote- I can go from work to a punk show in one night and get compliments in both arenas- thank you so much!
04/03/2023
Lisa G.

United States
Gorgeous Tote
This tote is perfection! The color, the softness of the leather and the size is perfect! WP never disappoints ❤️
02/08/2023
Yuki W.

United States
Best tote bag ever
This bag is high quality such a beautiful tote. This is one of the best totes I ever owned. I get lots of compliments everyday. The customer service is above and beyond. I am so glad that I purchased this bag.
11/25/2022
Emilia S.

Norway
Made my day - everyday
Some objects can make you happy. I am going to cheer this bag for the rest of my life --
11/19/2022
Di Y.

United States
great bag
got the chocolate brown color, goes great with everything.
06/21/2022
Patricia

Canada
Bedford Butterscotch Beauty
Wonderful bag, great quality, fast shipment to Canada. I really appreciate the quick response (from Jenny) to my questions and concerns about the colour. I am thrilled to carry this bag. Highly recommed. Thank you!
06/16/2022
Lin P.

United States
Amazing
Beautiful bag—I keep showing it off to everyone I know. They're all impressed with its quality, look and feel. I am a bit concerned for the straps as they seem skinny for the size of the bag, but I've loaded it pretty full and they hold up well.
05/26/2022
Christy J.

United States
Absolutely Perfect
I bought a wallet for my boyfriend a few years ago for Christmas and was blown away by how high quality and beautiful it was when it arrived. I have been saving up to buy this bag for myself and am so glad that I did. I am floored by how gorgeous this bag is. I bought this in black and had my initials monogrammed. I am hoping to carry her as my daily bag forever. <3
02/25/2022
Laura M.

United States
Gosh, I love this bag!
It is so rich and beautiful. The color, texture, and shape. It hangs perfectly over my shoulder or slung across my body. I love the depth of the bag as all of its contents land safely in the bottom half of the bag. I chose the tan color and it sits softly upright. I truly look forward to having this bag by my side for years to come and am so happy I made the investment.
02/11/2022
Roberta

United States
Amazing member
If you had a best friend in the form of a bag, this would be it. the leather is of high quality, it feels soft and yet robust. it has the perfect dimensions and is totally suitable for everyday use. it is the fifth member of my wp bags and fits in visually and qualitatively as you are used to from wp. Great investment, just love it.
01/06/2022
Janine M.

United States
Versatile, Classy, Sturdy
I love this bag! Like the title says, it's very versatile to use as a purse or a tote bag. The color is classic and goes with everything, the construction and craftsmanship are outstanding. This is the second WP bag I've bought and I have put my first one through the wringer, yet it holds up great. I only wish there was a smaller version of this Bedford Bag... it's a little large to use as a purse.
01/05/2022
Alicia J.

United States
Absolutely beautiful!
I am so very happy with my Bedford Tote. The color is delicious. Reminds me of a creamy caramel. I'm looking forward to the years it will give back as it wears and ages over time. So very happy. Thank you for making an amazing product.
12/31/2021
Krista S.

United States
Almost the Perfect Bag
I bought the tote in the olive color and it is stunning. I love the front pocket and inner pocket and key strap. The size is great and the craftsmanship is exactly what I expect from WP. My only complaint is that the longer strap to wear it as a crossover bag is not made from a thicker leather. From using it a few times I can feel it get stretched out and I wonder how it will wear long term. Other than that small concern I am delighted with my purchase.
12/25/2021
Carolyn P.

United States
The Bedford Bag—Simply Beautiful!
Hi Ryan, I received my bag in the color chocolate—olive was a close contender, and it is simply a beautiful bag—what else can I say. I have two other bags from WP and they are all wonderful as well. Thank you for the quality and workmanship, and I wish everyone at WP a healthy and Happy New Year!
12/12/2021
Susan M.

United States
Very nice bag!
Prompt delivery of a nicely made bag that will definitely be used. Great quality of leather and construction and design. WP Standard bags came highly recommended by a friend and I am glad I had inquired where her bag came from.