Cargo Tote Bag
Our Cargo Tote Bag strikes the perfect balance between form and function to create a dependable everyday tote bag. With external pockets in addition to an internal drop pocket, this bag offers plenty of capacity. Perfect for the weekend getaway or pulling double duty as a work tote to hold electronics, books, or tools. Sturdy full-grain leather construction ensures this tote last a very long time and gain character with age and use. Custom monogramming is available. 
Two external pockets
Internal drop pocket
Beautiful finish that gets better with age
FREE Shipping and FREE Returns
Comes with a lifetime guarantee on repairs
Width: 13.5" at base, 21" across the top
Height: 13.75"
Depth: 4.25"
Handle drop: 10.5"
Weight: 2.8lbs
Featured In
Reviews
Customer Reviews
Write a Review
Ask a Question
Amazing
In all honesty, pictures don't even begin to do this bag justice. The cargo tote is 1,000 times more amazing in person than in pictures and the quality is nothing short of outstanding. Can't wait to purchase additional items from you guys in the future which no doubt will happen sooner rather than later!
05/12/2022
Terry K.

United States
A winner
Elegant design and beautifully constructed
04/21/2022
beata l.

United States
Tote bag.
I love my bag!! And the love the monogram
03/09/2022
Niekema H.

United States
Sturdy Beautiful Tote
I have really enjoyed carrying this tote. I use it for work and can keep all of my work items in the bag. I also really like the length of the straps. Very pleased!
03/08/2022
Terri H.

United States
I've never loved a bag this much!
This tote bag is BEAUTIFUL! I absolutely love this bag, the style is perfect, straps are comfortable..it is quality and worth every penny! I've been wearing it daily for a while and it holds up, holds shape, and continues to be as gorgeous as the day I bought it! Ten stars, you won't regret buying this brand. My favorite bag of all time, hands down.
02/19/2022
Ellie

United States
Favorite Tote
It was love at first sight! I have had this tote for 6 months and is the perfect bag for travel or business meetings! I can fit my laptop, notebook and 2-3 books in it. The leather is so beautiful and it keeps getting better with use! You will love this bag! I get so many compliments and it matches everything as it is the perfect shade of brown.
02/10/2022
Jo A.

United States
Black please…and oxblood!
This bag…mmm mm, I LOVE it!! It's awesome for travel, every day, a tote, a purse…and the leather is aging beautifully. I am smitten. I need a black though, and an oxblood. <3
01/12/2022
Christopher A.

United States
The bag I've been waiting for (almost)
This is the bag I've been waiting to buy for years. I knew it would be well-made, fit all of my work and/or carry on travel gear and get all sorts of compliments too. Check. Check. And check. I only have two gripe for giving four stars: 1. The handles drop too much. They're simply too long for a bag this size. I'd rather have a tote than a shoulder-carry bag. 2. The handles straps are too narrow. For a bag this weight and capacity I would imagine thicker straps so it was easier to carry heavy or bulky loads. And thicker straps would fit the proportions of this bag too.
01/11/2022
Kathy S.

United States
My Daily Partner
This bag is part of my daily life and has been for years! This bag is made extremely well, looks great, and makes me smile. I LOVE this bag!
12/11/2021
Christina V.

United States
Cargo tote
I love my new cargo tote, she smells delicious and is such a great size. Plus I love the two outside pockets. I love it so much, I created a WP Standard fans page on Facebook so I can keep enjoying looking at everyone's bags. This won't be my last purchase
09/02/2021
Susan W.

United States
Wonderful bag
My husband bought this for my birthday after I requested it. It's awesomely beautiful and everything I hoped for. I stalked it online for several weeks and knew I had to have it. It's beautifully made well constructed smells divine and I'll have it forever. I will say the video on the website also swayed me. I love your message of sustainability. I'm thinking I also need the market tote in the next few weeks. And maybe the pouches too?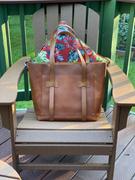 08/17/2021
Jessica

United States
Amazing!
This tote is fabulous! The quality is excellent, and the customer service I received from WP was great! It's hard to tell how big the tote is based on the pictures and reading the dimensions, but this is a large tote! It's perfect for work or even possibly a weekend getaway. It's my current every day carry even though I haven't been carrying much, because it's that great!
07/29/2021
Perla A.

United States
Lifetime Tote
When I opened the package, Wow, leathery smell, well made, sturdy, impeccable quality but had to ignore the weight, it's heavy when you fill it up. Even though I received the box repackaged, the label was retapped, the paper wrap and the bag had dried water marks I did not want to exchange or return because I was so excited to use it. I applied leather moisturizer and the water mark disappeared. I own other totes but I gravitate to this, I use it as my work bag, can be filled with all my essentials and don't have to worry about the handle, it hold it's shape. I also don't have to baby this either unlike my expensive tote, I just wipe the scratches with the leather cleaner and apply the moisturizer. A very good purchase
07/05/2021
Jeffrey R.

United States
Alternate to a back pack
This a great bag , straps long enough to go over 1 shoulder and carry behind you. It's a good alternative to a backpack , everyone comments on its look , and the leather ages well.
03/25/2021
Danielle

United States
I Love This Cargo Tote
I am extremely pleased with this bag!! It is fashionable, durable and the compliments never end with how well made this tote is. I am looking for a black tote next!
03/16/2021
Colleen O.

United States
Beautiful tote
I just received my tote. My purchase was securely packeaged. It is even more beautiful in person. I have been looking at this tote for such a long time and I'm so glad I purchased it. The workmanship is great, the leather is lushious. The length of straps are perfect for my frame. I chose the large size, so I have plenty of room for my pouches and an A5 Filofax planner. Love my tote. Thank you.