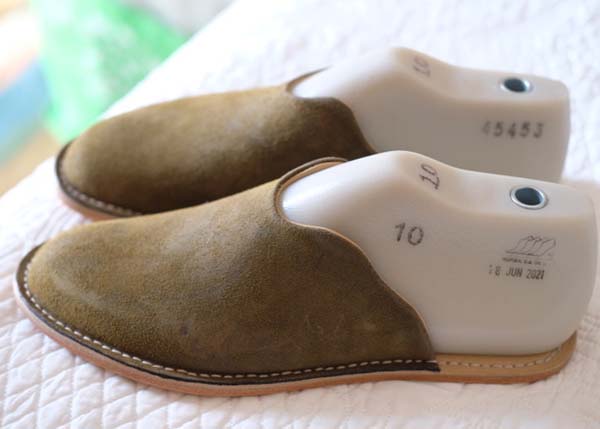 ENTRY 008
Mr. Grumpy Leather Slippers - Part 3
If you've been following along, I decided to resurrect the Mr. Grumpy slipper. If the last year has taught me anything, comfort at home is paramount. For this iteration, I decided to start from the ground up with a whole new last shape and materials.
Fit
The last is a sculptural element. Each foot is different so getting a last shape that ensures comfort and good fit is a big part of things. We took a few different stabs at the last and 3D modeled many different versions. Finally we arrived at a version that we thought was ideal for all levels of loafing.
Materials
Having that foundation in beautiful materials was a non-starter. Synthetics were not an option. For the uppers we went with a rich suede on the olive color as well as our signature leathers for other colors. 
A quick primer on Suede
For our uses suede is a split from a thick cowhide. The result is a soft, lightweight nap that feels great and offers a beautiful texture. The lining will be all leather in a lighter weight that feels comfortable and will mold to your feet.
The Sole
The pièce de résistance. Each pair has a beautiful vegetable tanned leather sole and a premium sponge in the footbed. Having the leather exposed on the bottom of the soles was a big deal in my estimation. You can sew a rubber piece on the bottom of these but I felt the leather needed exposure. It's too nice to hide. The problem you end up facing is the slip factor. Anyone who has worn leather-soled dress shoes knows that they can be on the slippery side. To solve this we worked hard on a solution that would preserve the beauty of the slipper. As well as offer more stability. We developed a leather sole with rubber inlays that add grip to the buffed leather. The amber color pops against the leather.
I'm thrilled with the result. Slippers aren't the most lucrative product, but we've made the best men's and women's slipper around for my dollar. I couldn't be more excited for you to put them on every morning. The Mr. Grumpy slipper will be the perfect step between the alarm clock and your morning coffee.
Sign up in the email form to be alerted when these first runs are available.