ENTRY 002
Gantes de Suede
Debuting reinforced durability for the PanAm duffle, the Midland backpack, and the Woodword briefcase. Plus, an all-new rough-out tote hits the stands.
---
Waterproofing the Classics
Originating from the French word "gants de suede," which actually means "gloves of Sweden," suede became a go-to material for high-end luxury products in the 20th century. It's a soft, delicate material that can be made from any kind of animal hide. The older the animal or thicker the hide, the tougher the suede.
Proper suede is a split leather, meaning it comes from the underside of animal skin that is separated from the top. It creates a thin and flowy feel. And because it's an open grain leather, it doesn't exactly make for great waterproofing. It absorbs liquids easily and leaves particles. But that doesn't mean that it's not doable, or better yet down-right desirable.
So we asked ourselves: "What if we made a durable, waterproof suede travel bag?"
Afterall, suede is classic. It's elegant. It's got juxtaposition. When we set out to waterproof our classics, we wanted to make sure we did it right. We took traditional processes and added our WP Standard flare to it.
We applied a spin-dry process in the tanning drum, which increases production costs but produces results. During this stage the hide goes through a special process in order for it to be waterproof, creating a rare breed of suede that you don't typically find on the shelf. Some cheaper manufacturers cut corners, turning the leather hide over so that the underside is the outside which gives the appearance of suede, but it's not technically proper suede. When done right, your suede product will last a whole lot longer, too.
For an extra layer of durability, we curated a brand new full-grain leather for the interior of the bags which took 9 weeks to develop. The concept was to create duality that utilized open grain and full-grain leathers to achive the best of both worlds.
We applied it to our existing PanAm duffle, the Midland backpack, and the Woodward briefcase to give them a refreshed, rugged look while also debuting reinforced durability. The full-grain leather interior keeps your prized possessions safe while the external suede gives a soft utilitarian look that can withstand the elements.
New to the line-up is a brand new tote design made exclusively from our new material. It's a smaller sized spin on our original travel tote that leaves a big, lasting impression.
---
"Suede is classic. It's elegant. It's got juxtaposition."
---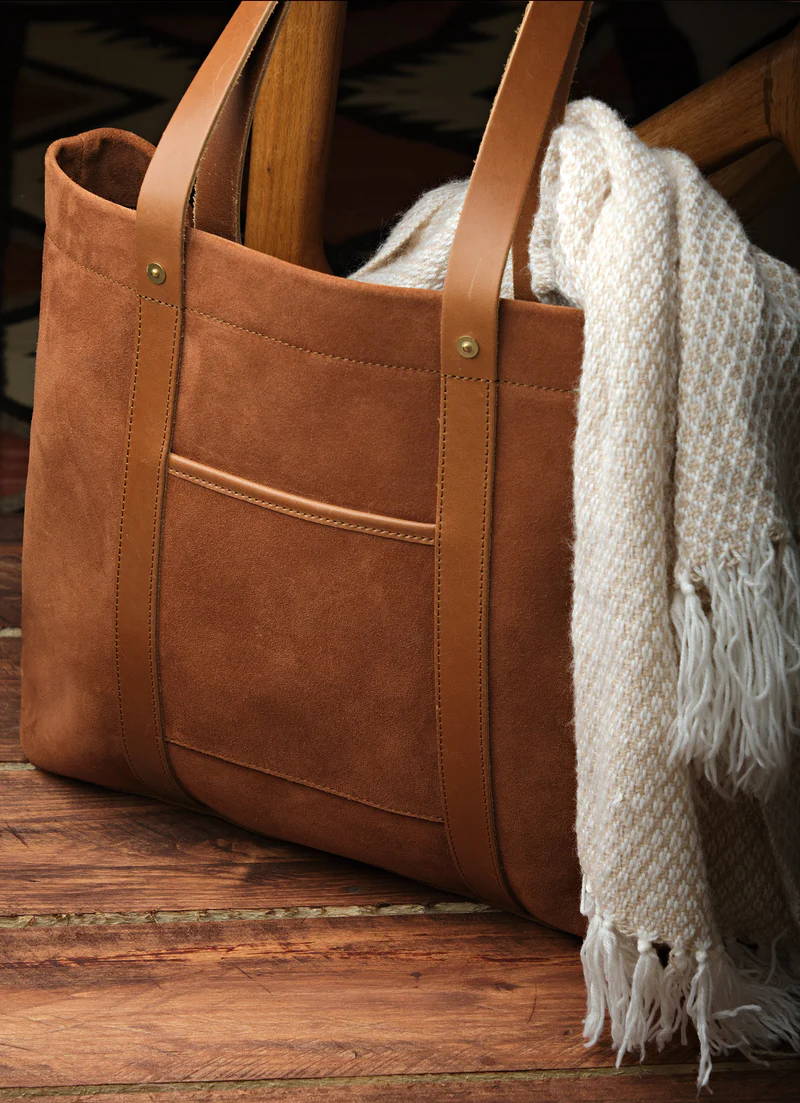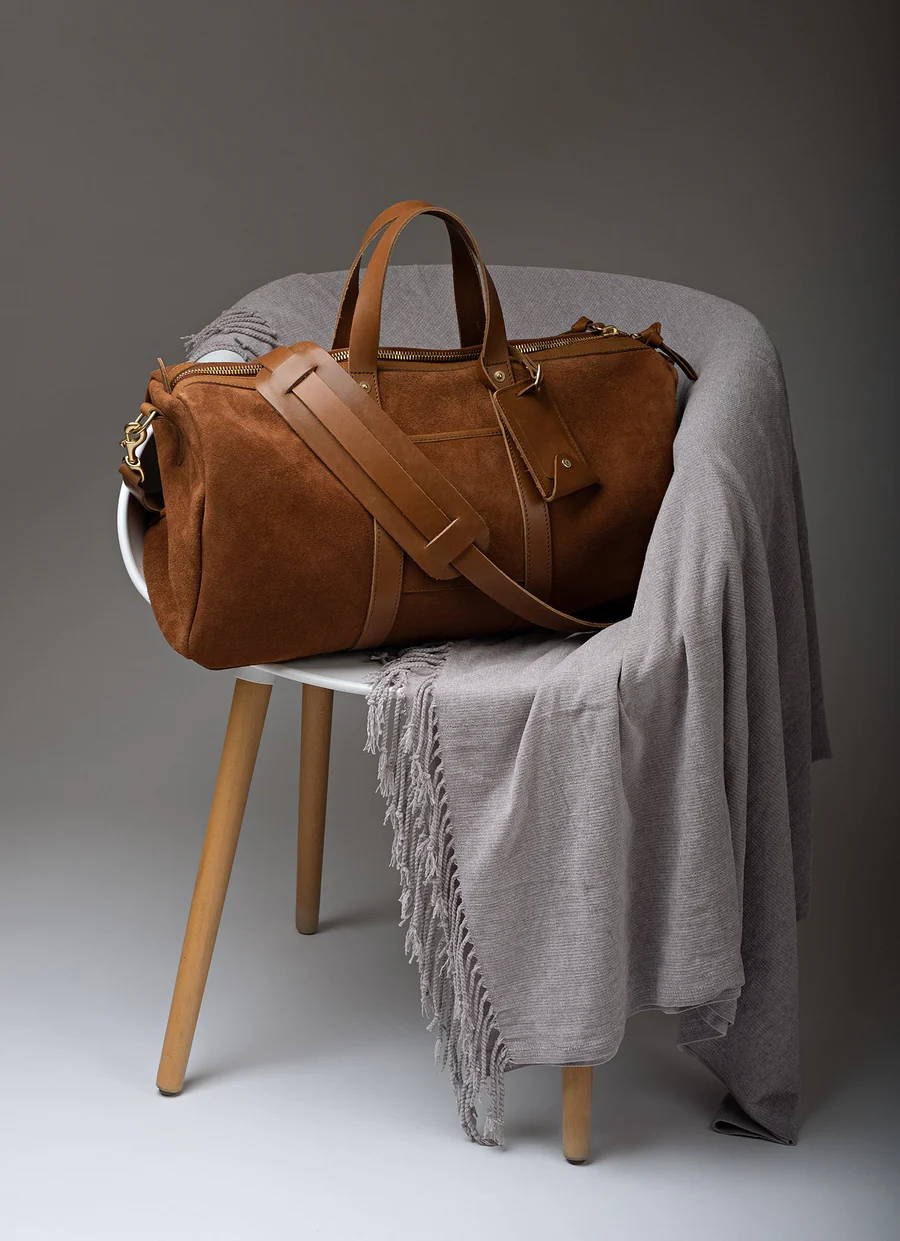 Left: The Rough-out Suede Tote. Right: The Rough-out PanAm Duffle
The Rough-out PanAm Duffle
The duffle includes an adjustable strap, luggage tag, heavy-duty 2-way zipper, and room to monogram it with your initials. Plus, it comes with a lifetime guarantee so you can count on it to last through your many journeys.
---
The Rough-out Midland Backpack
The Midland backpack can fit your laptop and whatever accessories you need from day to evening. This sturdy rough-out backpack is a robust companion that will stay with you for years.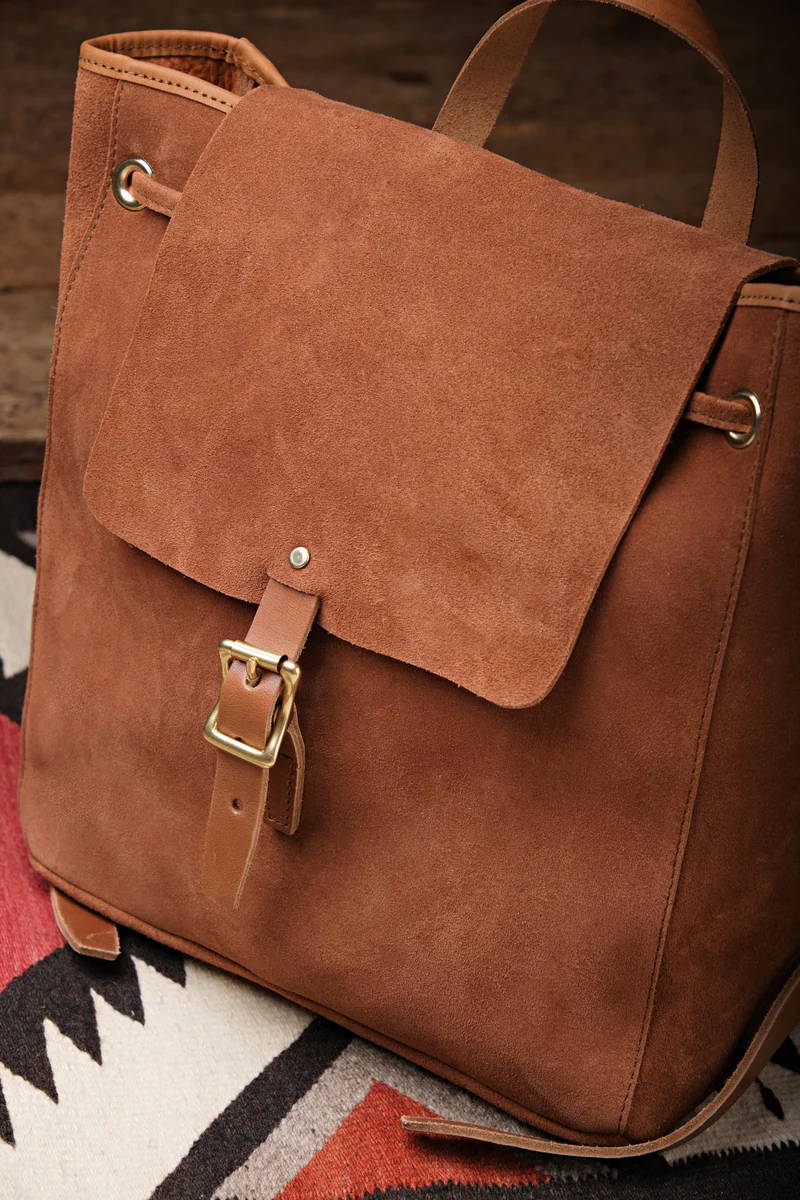 ---
The Rough-out Woodward Briefcase
The perfect companion for your daily commute. It has solid brass hardware, which will last for years. Plus, it has a dedicated pocket for your laptop and a zipper pouch to store all your other essentials. And if you need to carry it over your shoulder, the adjustable strap makes it easy.
---
The Rough-out Suede Tote
Our new suede tote is ultra soft on the outside but still has the full-grain on the reverse side to maintain maximum durability. The suede has undergone a waterproofing process to protect it from the elements.