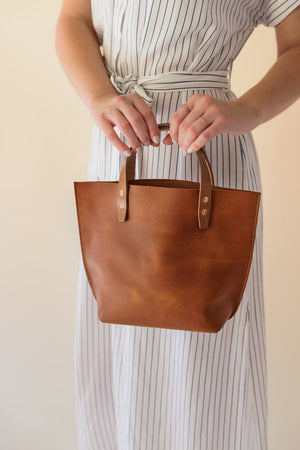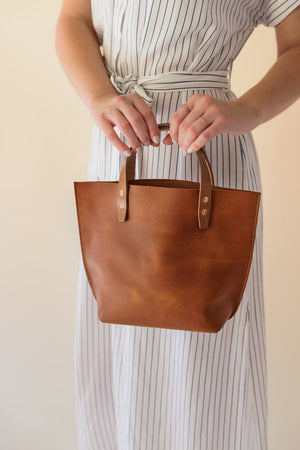 The Mini Tote

The Mini Tote is great for carrying just the essentials - wallet, keys, phone, and a few extras. Like all WP Standard leather bags, our 100% full-grain leather provides the foundation that allows it to age beautifully with time and use.
• 100% Full-Grain Leather
• Durable nylon thread
• Solid bottom
• Interior pocket drop pocket for storage
• Width: 11"
• Height: 8.5"
• Depth: 4"
• Handle drop: 3.5"
• Weight: 1 lbs
Featured In




#WP&ME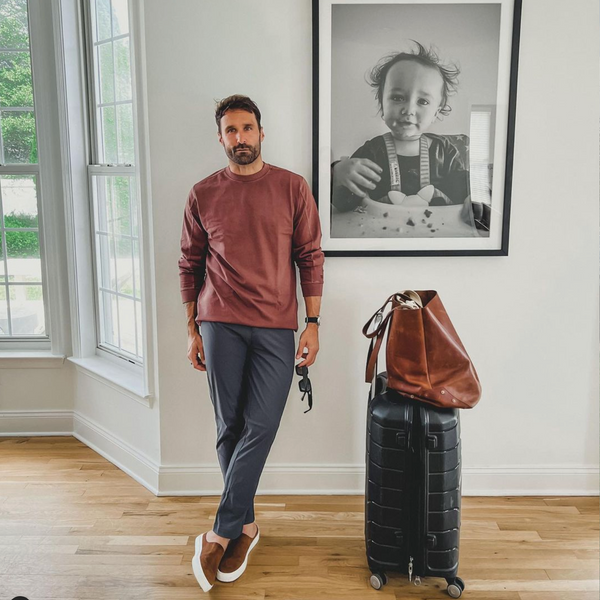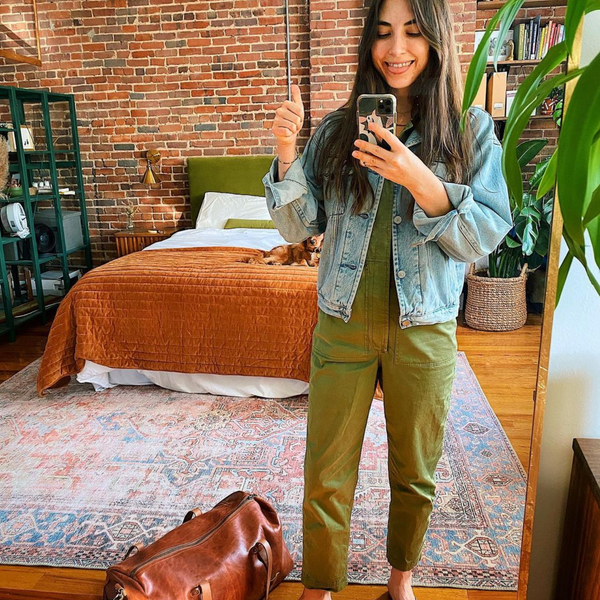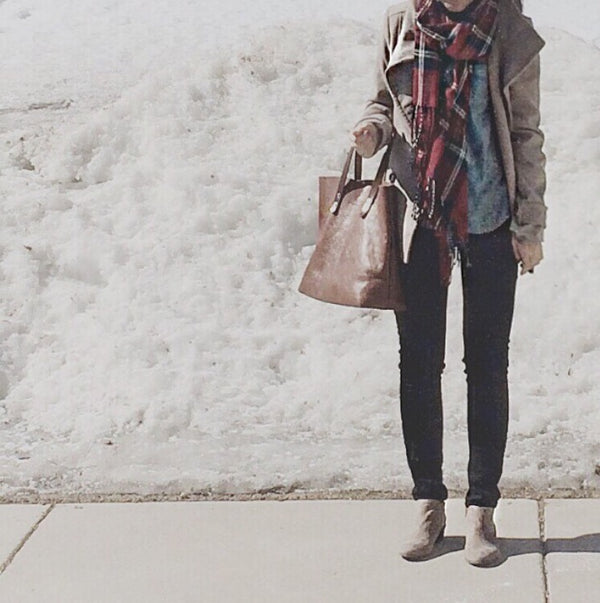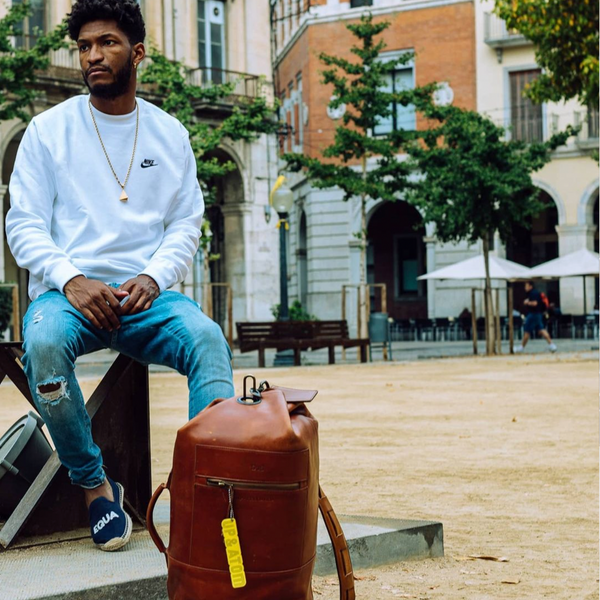 Reviews
Customer Reviews
Write a Review
Ask a Question
10/11/2022
Dwayne M.

United States
Beautiful leather goods
I really wanted to use the tote as a every day bag, wallet ,keys,etc. But I didn't realize the size , too small, but having it in my possession , the feel , the smell, the quality, the craftsman ship was incredible. So I returned it and the large tote is being shipped as I write this . Excellent !
09/23/2022
Joanna O.

United States
The perfect mini bag
I recently had a mini size of a wicker kind of bag. I wore it over the summer, but it came to its end, and I miss the size so much. Searching for asimilara bag online, I came across the tote bag on a magazine advertisement. Then surprise!!! I found the same size mini tote bag on WP Standard. Convenient, perfect size to carry everything I need and actually find it when I need it!!! Excellent leather and quality made, the color is absolutely pretty!!! The only think I feel you guys need to work on, it's the packaging, the bag deserves something more luxurious.
08/09/2022
Misty M.

Canada
A bit too small.
Hello, Gorgeous bag but it's a little too small. It fits everything I need but it's almost comical in regards to how little it is, sadly. Needs to be a few inches taller and a few inches wider. I ended up paying double the price with the Canadian conversion, the shipping and the duty so it's rather disappointing … sending it back would only cost me more money.
04/03/2022
Raquel

United States
Little bag, lots of personality
My first WP purchase did not disappoint. It is a sturdy bag that carries more than I thought it would! Good for a night out and running errands. The straps fit over my wrists easily and I do not have tiny wrists. I love the sleek design and the color of the bag. The pocket comes in handy.
02/13/2022
Roberta

Ecuador
Perfect little one
Small but perfect. the essentials fit in there, mobile phone, keys, wallet. one of the five members of my wp bags, just love it. the quality is excellent, as you are used to from wp.
12/27/2021
Brian D.

United States
My Wife LOVED It...!!
I finally found the "bridge" between a purse and the customary tote bag. This size and shape is PERFECT. Thank you for offering this item. From a satisfied Customer in Texas.
10/21/2021
Jodi A.

United States
Mini tote
I like it a lot. It is the perfect size for when you do not carry much. I love the look!
09/03/2021
Tamara C.

United States
Needs a longer handle
Needs a longer handleBut I gave it five stars anyway I think I'm going to take it to the leather shop and get a longer handle put on it I have the original big tote and I love it-It such a wonderful patina after I don't know how many years The more I use it the better it gets
07/16/2021
Angela G.

United States
Love WP Standard
I love my mini tote and my vintage tote….. so beautiful!! Thank you so much! So simple but elegant!
02/11/2021
June T.

United States
Mini Tote
I do love this purse. I wish it were just a little wider to or had another pocket, but overall I'm happy I purchased this little tote.
02/08/2021
Lisa K.

United States
02/01/2021
Elinor R.

United States
Just right
I have been watching for a small replica of a full size leather tote. This one is of excellent quality, beautiful leather that will age to "just right". The double pocket inside is a clever addition.
01/10/2021
Tracy A.

United States
Perfect Size!
I'm one that tends to overload a purse so this one has made me downsize. I love that! I use my zipper tote for my day to day work stuff but I use the mini tote for my personal stuff. The small zipper wallet fits perfectly in it along with a small zipper bag and a few other things. Like someone else said in a review, I wish the handles were just a little bit longer to more easily go over my wrist. All in all, I really didn't think I would love this bag but I absolutely do!
12/23/2020
Erin T.

United States
Return Customer
Perfect place to find the perfect gift if I am at a lost! Thank you for great "wow" gifts that keeps them asking for more year after year.
12/11/2020
Susan L.

United States
Review of The Mini Tote
Hi Ryan, It would be so great if you could make one about the same height, but with a much wider base. All I have ever used for my "purse" is a tote, most w/ zippers, but I thought your stuff was so pretty I was game to give it a no-zip-go. I had to return the one I bought because the bottom was just too narrow. If you made one w/ a bottom/base at least 6 or 8 inches wide, I'm sure I would buy several! Let me know if you ever do that! Thanks, Susan
12/05/2020
Susan C.

United States
Very cute
I like it alot …. I wish the handles were a smidge longer. When you have a winter coat on, it's impossible to slide the handle up. I think this is a perfect gift for a younger person. If you are placing a wallet inside, I suggest you be very careful because it will show if you are in a busy area (safety first). Overall, I recommend this bag. It's the quality craftsmanship that we expect from Whipping Post. I'm still using my first generation WPS tote and continue to get compliments, even though it's beat up. Merry Christmas