Vintage Tote Bag
When you need a reliable tote day in and day out or a weekend getaway, WP Standard's vintage tote bag has you covered. Like all WP Standard leather bags, our 100% full-grain leather provides the foundation that allows it to age beautifully with time and use. The generous size of our tote bags will allow up to a 15" laptop to be carried along with the rest of your daily accessories. 

100% Full-Grain Leather
Durable nylon thread
Solid bottom
Interior pocket drop pocket for storage
Width: 15"
Height: 13"
Depth: 5.5"
Handle drop: 9.5"
Weight: 2.2lbs.
Product reviews
Customer Reviews
Write a Review
Ask a Question
01/11/2022
Margaret S.

United States
Vintage Tote Review
The vintage tote was received as seen online. I look forward to making it a well-worn and loved piece of leather.
01/08/2022
Emily S.

United States
Gifting a Beloved Bag
I've owned (and constantly used) this bag in the Oxblood for several years and every time my mom sees it she swoons over it. Bought it in tan for her bday and she's in LOVE!!! Such good quality, perfect size, perfect everything.
12/27/2021
Lisa R.

United States
Love this bag
I purchased this specifically to carry work material and my laptop and it doesn't disappoint! It's stiff, hoping it will soften over time, but it made me obsessed with wanting more bags! This bag is large, has plenty of room to use as an overnight, and holds its shape!
12/16/2021
Ana S.

United States
12/12/2021
Randi B.

United States
Amazing quality and a beautiful bag!
Amazing quality and a beautiful bag! I had been searching for a new work tote that would fit everything. I love this vintage tote and know it will only get better with age. Have already had compliments on it! Thank you WP Standard.
12/12/2021
Cynde P.

United States
Vintage Tote Bag
I love this bag! Great craftsmanship and superb quality.
12/08/2021
Tammy M.

United States
Just have bag!!
I have wanted this bag for a long time. I finally got it and I absolutely love it!!! The quality of the leather and the size is perfect!!
09/24/2021
Jessica

United States
08/09/2021
Leone E.

United States
I have owned this bag for nearly 10 years and I still get complements on it
This is the only bag you will ever need. From college to work and travel too this bag has been with me every step of the way and honestly gets better with age. Prequarantine I used this bag daily hauling my heavy laptop, books, iPad all at the same time. With all I have put this bag through I have NEVER seen signs of stress on the straps, ripping, or issues with the grommets. This is the sturdiest bag in the world. Show this bag a little love every once in a while with some leather care products and you will get to enjoy it for years.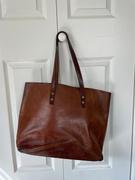 04/28/2021
Toni D.

United States
This is it!
If you are looking for the perfect bag, look no further... this is it! Bags are my thing... I can't tell you how many I have owned in the past but this one is at the top of my list. The quality is outstanding so I know I will have this for many years to come. I ordered the black but I had a special request, I wanted more of a uniform color on my bag with less "streaks" and Jenny was wonderful. She picked the perfect bag for me. The only problem is now I'm wanting the tan one!
04/16/2021
Magdalena B.

United States
Timeless
This is a timeless tote that will never go out of style. This was a birthday gift 6 years ago and has held up beautifully without any issues. I rotate it with other purses but it has accompanied me on interviews, date nights, girls night, trips and more. I get compliments on it when I take it out so next time your significant other or family asks what you want for a birthday or holiday present, ask them for this purse.
03/17/2021
Crawford

United States
A good bag is like a good relationship
Handsome and not over-complicated, the WP Standard Vintage Tote is a bag you can commit to. Classic and durable, this tote is large enough to carry a laptop and a bottle of wine - with bolted on straps that look ultra-reliable. At first I was surprised at the stiffness of the leather but it's already softening up as we get to know each other.
03/11/2021
Channy C.

United States
Perfect bag!
I got this as a birthday present from my husband 8 years ago and I am still using it everyday. I'm a HS teacher and it carries everything (papers, books, laptop, iPad and other teacher trinkets). The older it gets the BETTER it gets. High quality leather and the patina of the leather gets even better with age. I always get compliments when I use this bag and they can't believe it's been 8 years! Love this bag! I also got the mini one in black and it is super .
07/28/2020
Helen

United States
TIMELESS TOTE FOR THE LONGHAUL
Like many other reviews, I have had this tote now for many years (5 years). It is a timeless piece that is incredibly sturdy, roomy, and ages beautifully. A few times, I have traveled only with this bag and the stress and bulk I've put it through proves it is WORTH the investment. The quality, color, and simplicity create a bag that will last you a lifetime. I also get compliments on it all the time and bought my mom one as well.
Workhorse of a bag
You need this tote in your life! I bought the original tote in 2015 and have used it as my Teacher Tote every single day for the last 5 years. There's two other teachers in my school who bought one too. It's the best! The straps are super sturdy, the leather is the highest quality you will ever find! I've carried it as my travel bag/carry-on/beach tote, farmer's market, momma' bag, you name it, I've used it for that purpose! It's definitely one of those leather bags that looks AND feels even better as it ages...and the smell! I still sniff it every now and then. I'm perusing the site for the zipper tote :)) Ya'll, it even sits up all by itself when it's empty. This is def the bag for you!
04/27/2020
Rachel

Italy
Great bag!
My husband gave this to me for Christmas 3 years ago, and I still love it. I get compliments frequently. No matter how many new bags I buy, I go back to this one. Great size for a carry on for flying. It looks better over time the more you carry it.