Leather Rucksack Backpack
Our leather rucksack backpack is a contemporary design steeped in the history of rucksacks from military history. We utilize a drawstring closure and adjustable leather straps. The full-leather construction will stand the test of time and get better with age. Custom monogramming is available on this product.
100% Full-Grain leather
Brass Hardware
Large external pockets
Adjustable leather straps
Top file
Drawstring closure
Length: 15"
Width: 4.5"
Height: 15"
Featured In
#WP&ME
Reviews
Customer Reviews
Write a Review
Ask a Question
12/09/2021
David T.

Australia
Amazing product
This product is amazing. The quality of the leather feels substantial and smells great. I think this is a chrome tanned and veg retanned leather. It is softer and a bit more flexible than a full veg tanned wickett and Craig leather bag I have (a good thing). The leather smells intoxicating and feels strong/ not delicate. It is a good dimension, a little bit on the boxy side but with the drawstring pulled, creates a pleasing silhouette. It is not too heavy for a full leather bag which makes it easy to carry (the WP weekender in contrast is built like a tank and weights like one) Most stress points are reinforced with a rivet. The only area that is not reinforced where I thought it would have been is the bottom end of the strap to the bag. It is however sewn with what appears to be polyester thread of a decent thickness and would expect this to last. Overall, this bag provides exceptional value for money. Oh, and the customer service from WP standard is a class act. They stand by their products and service.
08/31/2021
Josh

United States
More than expected
I had some reservations about whether this backpack was going to be to my liking. My main concern was about the size of it (based on the listed dimensions I thought it was going to be too small for my large frame), also listed at 15x15' I thought it would be too square and boxy in shape for a backpack. It ended up being a better fit than expected, when filled up with my carry items and slightly cinched at the top it fits like a good sized standard issue men's backpack, it actually fits very similar to my 17.5x12' backpack which is more what I would have hoped for. Hope that information is helpful to anyone interested but concerned about the dimensions. With that being said the quality of leather, the feel, the smell, the look and beauty of the bag is pure artwork. W.P has proven to me to be best bang for your buck in high quality leather bags, I don't see how anyone could be disappointed in this backpack it is awesome and worthy of 5 stars.
12/18/2019
Nor A.

Malaysia
Understated elegance.
I love the design and the size. And is it just me it actually smells nice too! I notice people looking at my bag whenever i use it. I get a lot of questions on where did i buy it. My husband loves it too as he doesnt mind carrying it for me (unlike my other bags). Will definitely recommend this bag as a day travel bag, work bag or just a bag to toam around the city.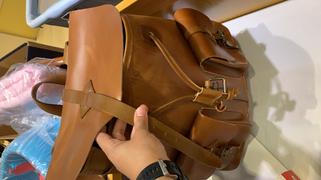 Love love love
This is my third WP item and I have to say I love love love them all! I had to switch to a backpack/rucksack due to carrying too much weight on one arm and this one is beautiful and fits my shoulders/back perfectly. I can load it up with all my books and water bottle and barely feels like I'm carrying anything. Straps fit very nicely. Can't wait until it's broken in and it comes to the mountains with us.
THE Rucksack!!!
As always my experience buying from WP was great. I've been debating on adding the rucksack to my WP collection and decided my birthday was the perfect time. I have obsessed over all of my bags from them and this has definitely been my favorite so far. The quality and craftsmanship of this bag is incredible. I can't wait to see how even more beautiful and soft it becomes over time. You guys truly never disappoint. Thank you again!
Excellent Quality
Bought this bag as a gift for my boyfriend. It's gorgeous, he loves it. Then leather is nice and thick. Construction is sturdy. It'll hold up for a very long time.
Best backpack
The quality is top notch. I've already gotten several complements after a week of wearing it out. It's easy to access the contents and it's comfortable.
This bag is the greatest!
It's strong yet supple leather, it reminds of a leather backpack I received as a gift back in the 70's... that bag lasted ~30 years!! I'm an executive who travels a lot overseas..I need a sturdy, strong bag to carry my heavy work laptop and this fits the bill! Plus- the price is beyond reasonable: it's Christmas morning for adults!!
Attractive bag but some discomfort
The bag can be slightly uncomfortable and squeaks when it runs against my back. I'm a little disappointed the strap in the front to close the bag is already starting to wear faster than the rest of the bag. I pull on the strap to open the bag and have been doing it for three days. It's already starting to curve into a strange shape. Overall the bag is beautiful, but it feels like it's going to take some time to break in. The inside is also just one big space. I wish there were more pockets for me to organize things better.
Great bag with a few exceptions
Overall the bag is great and has nice build quality to it. There are however a few shortcomings. The bag itself droops which might not be the most supportive if you're carrying heavy things in there. Also, there's a considerable amount of dye/paint transfer so be aware of that when wearing light colored shirts. Can't tell you how many shirts or sweaters I've found with brown stains as a result of this bag.
Another Beautiful Whipping Post Purchase!
I have been eyeing this backpack for over a year, and could not be happier that I finally purchased it. I own the tote, and the oversized tote, and know that I could expect the same quality leather and craftsmanship, and I have not been disappointed. (My husband called it "majestic" when he first saw it.) I am a college professor and needed to distribute the weight of all of my papers and books more evenly as I trek across campus. There is plenty of room for my 13 inch laptop, papers, text books, and everything else I need. I have no doubt the leather will break in beautifully, just like my other Whipping Post bags. And I have no doubt that this will NOT be the last Whipping Post bag that I buy.
Just too big
The quality was great and it's a beautiful piece but it was just too big for what I was looking for. WP needs to make a petite version of this bag soon
Makes a great present
I bought this backpack for my husband. He absolutely loves it. He gets complements everywhere. A very special well made accessory.
Best Leather Backpack Ever
Been searching for the perfect leather backpack and I'm so glad to have chanced upon this. It's the perfect sized everyday bag for me! It fits my 13 inch laptop + dance clothes + daily on the go necessities. Very happy with it!
Read for adventure
Love the feel of this. Bought for trip out west. Looking forward to breaking it in.
Variance in color
I like a slightly distressed look but this seemed a little too much. However, decided to keep and I'm generally pleased with how it wears.