ENTRY 017
6 Reasons to Use Passport Cases and 5 Instances Where They Make Great Gifts

Why Do You Need a Cover for Your Passport?


When you travel, your passport is your only document that can legally prove your identity, so it is important to protect it, and take proper care of it so that you can enjoy all the guarantees and benefits that this document offers you all around the world.
During a trip, your own security is a crucial factor, but it is clear that the security of your passport comes second, just after you.
And to protect it properly, you need to cover it with a passport holder.
Passport cases don't have to be super fancy or very expensive, but at the same time, you want something that won't rip the first time you open it to show at the border.
Plus, if you like all your belongings to match and look nice, a passport leather cover will be the optimum choice.

Let's See Six Advantages of Having a US Passport Cover in Leather


1. It will Make your Life Easier
Traveling can be burdensome if the journey is long or you travel alot. Often, your passport will be lost at the bottom of your purse, or whatever bag you carry your personal items in.
If there is a queue forming behind you, it can be nerve-wracking if you haven't found it by the time it is your turn to show it.
Having a passport case made of a colorful fabric or in leather will help you distinguish your document from everything else in your bag.


2. Your Passport Will Remain Spotless

Travelers try their best to be extra careful when they are holding their passports, but accidents are fast to happen. When you visit a new country or a new city, you don't always know how things work, and it can be overwhelming.
You drop your passport in a puddle or stain it with your coffee, and now you have to get a brand-new passport, which can take weeks.
Passport covers will help you protect this important document, especially if you travel a lot, and buying a US passport cover leather is even more robust. It will outlast your passport.


3. You will Be Better Organized

Indeed, passport covers aren't only useful for protection. Most of them now offer additional pockets in which you can store a credit card, a driving license, some money, or any document you need by your side.
You can have everything in one spot which could save you a lot of time, especially if you're in a hurry.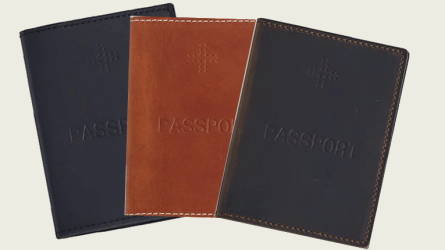 4. Stylish Passport Cases Are Fashion Accessories
Passports covers look stylish and trendy. Most of the executives and entrepreneurs carry their passports in these passport cases because they are very conscious of its importance.
Plus, they can be personalized with your name and surname, for example.
It has become a fashion accessory, especially since influencers have been showcasing their many trips all around the world.


5. Your Privacy Remains Safe

Without doubt, we often forget that having a passport stolen can have disastrous consequences on our private life. It is just a document and we don't think about it being gateway to ill-intentioned people.
As a result, today, some holders actually have RFID blockers in them to stop the chip in the passport from being scanned by the wrong people.


6. Robbers Will Be Deterred
Further to our previous point, passport covers are useful deterrents against identity thieves.
Not only do passports contain information about us, but they are extremely valuable.
There's a huge underground market of illegal documents and passport replicas. Unfortunately, once your passport has been robbed, it can be sold and used by someone else.
Covers can hide your passport and make it look like something else, like a random cards' holder.

Who Would Enjoy Receiving A US Passport Cover As A Gift?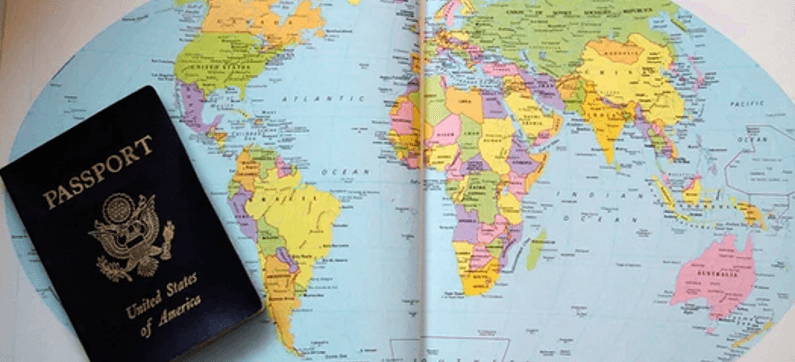 Before continuing on to our examples of gift gifting ....
You might wonder why we keep referring to US passport covers and not holders in general? The answer to that is simple. Each country has its own size and shape of passport.
The covers are not interchangeable and need to be made the right size for the right country's dimensions.
If you are an American passport holder, then you will want to take a look at our leather passport holders.

They come in a selection of colors, and have two slots for carrying other important items such as credit cards and driver's license.
Now on to those gifts we talked about ...


1. Ready for the Honeymoon
A passport holder is one of the most useful and appreciated travel accessories.
It can be offered to lovers as a personalized wedding gift, for a wedding anniversary, Valentine's Day, dating anniversary, or else.
If a couple is about to leave for a trip, especially for a honeymoon, they will embark with pride holding their original passport holder in memory of their big day and symbol of their love.
And don't forget to add a monogram to each so they know which one belongs to whom.


2. The Gap Year's Essential
If you know someone who's soon to be graduating, getting them a passport case could be an amazing idea.
Indeed, many students nowadays are ready to travel the world. They want to see and learn new cultures befor they begin working or continuing on with their educational studies.
Gifting a leather passport holder is perfect for anyone taking a gap year. It could be a great reminder of the place they are from, or the promise of the thousands of adventures they are about to live.


3. The Thank You Gift
If getting passport covers for the groom and the bride is a wonderful idea, your groomsmen, and bridesmaids also deserve such a beautiful gift, especially if they are into traveling the world.
As a thank-you gift for their constant support, we can't think of something better.


4. The Best Stocking Stuffer

Trying to find some little extra items for someone's Christmas stocking?
Just pick up one of the many stylish passport covers that are available and your travelling friend or a family member will love the idea and thought behind it.


5. Keep the Family Prepared
Traveling can be a little overwhelming for children. They need to have things to occupy their time.
Plus, waiting for a big trip to come around can seem to take forever.
But if you get them a personalized and cute US passport cover, it could make the wait easier.
They will feel like they own something special and are more prepared for the big family vacation.
As you can see, passport cases are essential accessories for all travelers.
To ensure its durability, it is essential to take care of your passport, and protect it with a cover.
Passport covers are practical items that can extend the life of your passport. They will help keep your passport in good condition.
You can choose the type that suits your needs and preferences among a variety of sizes and colors.
You can also select from a range of finishes, including varnish, gloss, embossed, etc.
Sometimes a passport gets lost or stolen, but most of the time it is simply damaged because of lack of protection.
It's like carrying your phone without a case: 99% of the time everything goes well, but when the 1% happens, it can be a disaster, so trust us and think about purchasing your own passport holder!
---
You Might Also Like To Read ...