ENTRY 031
5 Men's Leather Holdalls: From Practical to Stylish
Have you ever generalized your comment by saying that all men's bags are "just a black bag"?
Well, it's time to expand your knowledge because there are many different types of bags out there that serve different purposes.
Ideally, think of your bag as an investment piece that will last you years, if not decades. And with the right care, it will only get better with age.
When it comes to men's bags, there are a few different categories that are worth considering. Here are some of the most popular options of men's leather holdalls.
As the name suggests, these bags are meant to be worn over the shoulder. Oversized and slouchy or petite and structured, the over-the-shoulder bag is a versatile style that can be dressed up or down to suit any occasion.
Most over-the-shoulder bags are large enough to fit all of your essential items, making them ideal for days when you need to carry a bit more than usual.
But what sets this style apart from a traditional tote is the long strap that allows you to wear the bag over your shoulder, freeing up your hands.
Whether you're on your way to the gym or heading out for a day of shopping, an over-the-shoulder bag is a comfortable and stylish option. And with so many different designs to choose from, it's easy to find one that suits your style.
Whether you are the traditional type who likes classic silhouettes or someone who prefers a more modern look, there is an over-the-shoulder bag for you.
A messenger bag is a type of over-the-shoulder bag that gets its name from the fact that it was originally designed to be used by messengers.
These days, messenger bags are popular with everyone, from students to busy professionals. And it's not hard to see why.
Messenger bags are usually larger than a traditional over-the-shoulder bag, making them perfect for carrying all of your essentials, plus a few extras.
They also have a long strap that can be worn over the shoulder or across the body, making them extremely comfortable to carry.
Most messenger bags are fairly small, making them a good choice for carrying just the essentials. And since they're worn over the shoulder, they tend to be more comfortable than a backpack or tote bag.
Messenger bags come in a variety of styles, from casual and canvas to leather and luxury. So whether you're looking for a new work bag or a weekend getaway bag, a messenger bag is a great option.
A backpack—also called knapsack, rucksack, pack, sackpack, or backsack—is a leather, vinyl, or cloth sack carried on one's back and secured with two straps that go over the shoulders, but there can be variations to this depending on the bag's design.
Backpacks are a staple for students of all ages, but they can also be handy for adults who are always on the go.
The rolltop model is particularly useful because you can make it the size you need. Shorter or longer to match your load.
Backpacks come in all shapes and sizes, from small packs that can be used for carrying a few essentials to large packs that can hold enough supplies for a weekend camping trip.
There are many different types of backpacks designed for specific activities, but there are also some general-purpose backpacks that can be used for a variety of purposes.
One of the most common types is the laptop backpack.
Now that we live in the digital age, people are used to carrying laptops with them wherever they go. And while you could just stuff your laptop into any old backpack, it's better to invest in a backpack that's specifically designed for such devices.
Laptop backpacks are one of the most popular types of backpacks on the market. And for a good reason—they offer a great way to carry your laptop, as well as other essential items, without having to lug around a separate bag.
But with so many different laptop backpacks available, how do you know which one is right for you? Here are a few things to consider when selecting a laptop backpack:
Size: The first thing to consider is the size of the backpack. You want to make sure it's big enough to comfortably fit your laptop, as well as any other items you need to carry. But you also don't want it to be too big or bulky, making it difficult to carry.
Style: There are a variety of different styles of laptop backpacks available. From sleek and professional-looking bags to fun and trendy designs, there's sure to be a style that fits your personality.
Features: When selecting a laptop backpack, be sure to look for one that has plenty of compartments and pockets. This will help you keep all of your items organized and easy to find. And if you'll be carrying your backpack for long periods, look for one with padded straps for added comfort.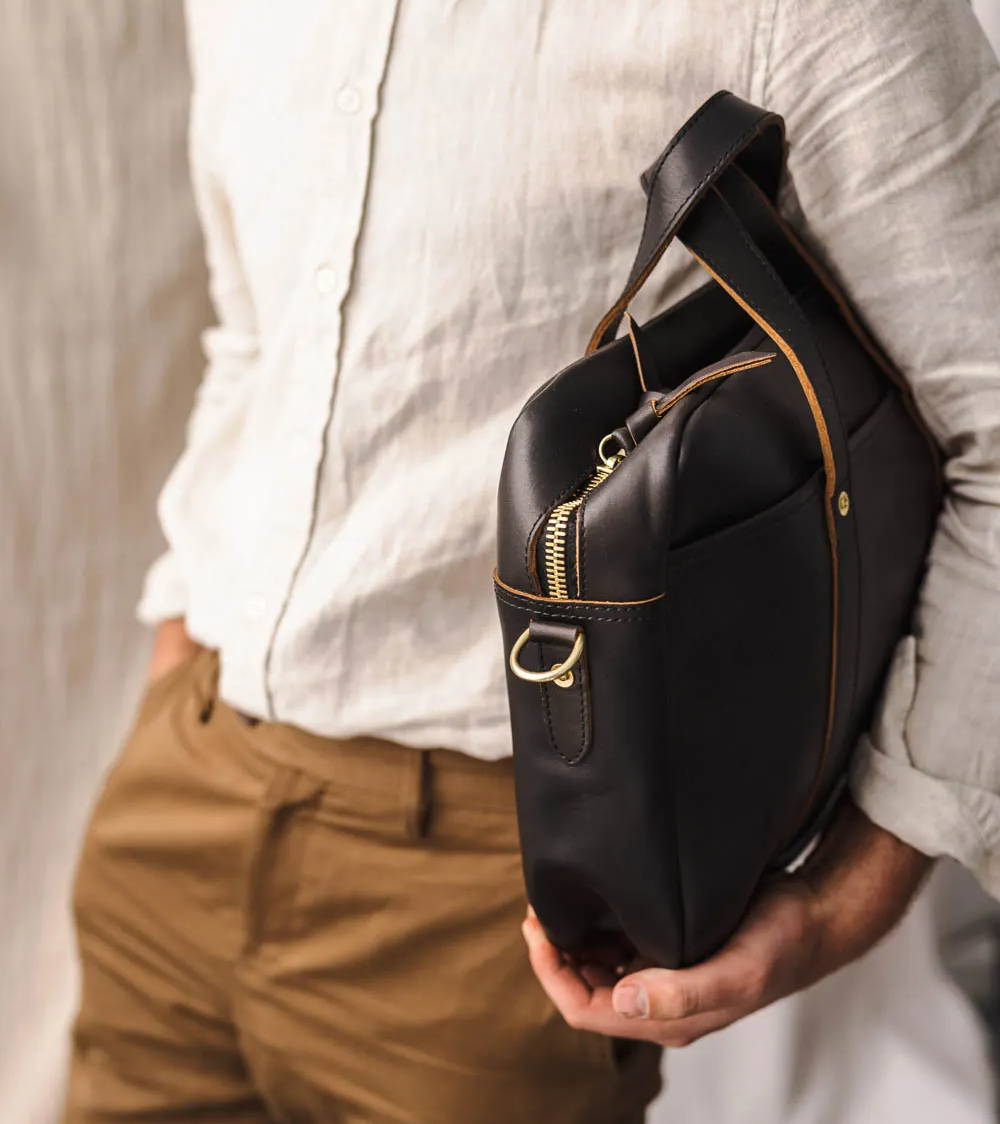 A book satchel is a type of bag that is characterized by its short handle, long strap, and rectangular shape.
These bags are often used as school bags or work bags, as they are large enough to fit all of your essential items.
Satchels usually have one large compartment, as well as a few smaller pockets for holding smaller items.
This makes them ideal for carrying everything from books and laptops to your wallet and keys.

With so many different styles available, it's easy to find a satchel that fits your personal style.
When choosing a satchel, be sure to consider the size and shape of the bag. You want to make sure it's large enough to hold all of your essentials, but not so large that it's cumbersome to carry.

And pay attention to the straps—you want a strap that is comfortable to wear and adjustable so you can get the perfect fit.
Concluding Thoughts on Mens Leather Holdalls
Men's bags have been around for centuries, with early examples dating back to the Middle Ages. Today, there are a wide variety of holdalls available for men, from casual and canvas to leather and luxury.
A good bag should make your life easier—it should be functional and stylish without being too cumbersome. It should have enough pockets and compartments to keep you organized, but not so many that you can't find anything.
And with so many different styles, materials, and designs to choose from, there's sure to be a men's leather holdalls bag that fits your needs. Whether you're looking for a new work bag, a weekend getaway bag, or simply a way to carry your books, you have several options to choose from.
So what are you waiting for? Start shopping for your perfect bag today!
---
You Might Also Like To Read ...