ENTRY 004
10 Reasons Why the Fashion-Conscious Fellow Carries A Man Purse
Men have been using purses for a long time now. And, although they mostly started wearing them for practical reasons, now many men say they feel more confident, and have a greater sense of fashion.
Of course, there are many reasons why men choose to wear men's leather bags. From convenience to style, read on to find out why more and more men carry their belongings in a man purse.


A man's purse is usually a small leather pouch with a strap attached to the top. They are often used to hold keys, money, credit cards, cell phones, pens, business cards, and other items.
Purses come in all shapes and sizes. They may be large enough to fit a wallet or as small as a key chain. The man purse bag can be quite similar to the women's purses, but tend to have more compact and defined compartments.


No man should ever feel self-conscious or out of place for wearing a guy purse. Nowadays, it is not just women who can carry a handbag. Men also carry bags and purses. There are different kinds of purses that men use.
The most common type of purse is the bucket backpack purse, mostly used by students because the bags are smart. There's also a shoulder bag, briefcase, jackpack, and even a doctor's bag for medical professionals and businessmen.


What Is a Man Purse Called?


You can call your man purse bag whatever you want. Many people, though, use alternate terms such as wallet, carryall, satchel, or jackpack. Any word or phrase that fits and describes the purpose will be okay.


You can carry your bro sack in one of two ways:
1. Cross-body or
2. Over the shoulder
Cross-body means that you place the strap across your body so that the flap hangs down between your legs. This type of bag looks great when worn over casual clothes.
The oversized flap makes it easy to access your phone or wallet from the front pocket of your pants. A cross body man purse is always a great option, since you can use it with less fuss and without straining your neck or back.
Over the shoulder means putting the strap around your shoulder and hanging the flap from your neck. This type of bag is more versatile as it can easily be worn with any clothing. For example, you can use a shoulder purse for daytime and night-fashion looks.
The only problem with the over-the-shoulder purse is that the strap tends to slip off your shoulder, so try to adjust it to avoid falling off your shoulders while you are walking around.


If you see a man with purse, he could be a student, businessman, doctor, lawyer, construction worker, and anyone else who needs to carry things around. They carry them to keep their hands free, keep their wallets safe, or make a fashion statement.
Businessmen even carry to stay organized, get something out quickly, or use one hand instead of two when they are in a hurry.


Why Do Men Carry A Man Purse?


Men who carry a manpurse usually do so because it makes life easier. For instance, when you need to pay for something at the store, you can pull out your wallet instead of digging through your pockets.
When you need to write something down, you can easily grab a pen from your backpack as a student instead of searching for one. Also, when you need to take notes during class, you can quickly reach into your backpack.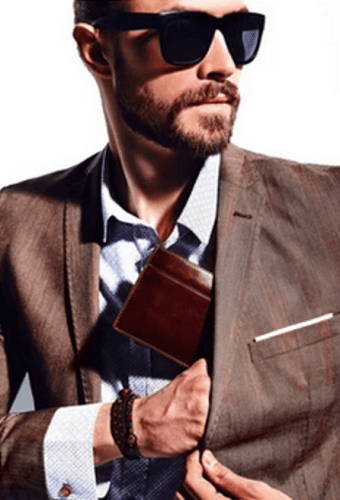 Another reason why men carry a man's purse is that they want it to look good.
Since there are different types of purses and you can choose one that looks the most stylish, you will most likely want to buy one that looks great.
You can also use it to carry your important documents when you need them. If you need to travel often, using a manpurse is more convenient than a briefcase since it is smaller than standard-sized bags.
Men carry a manpurse around because it provides them with so much convenience, especially when the weather is bad and the streets are snowy or rainy.
The main reason why many men carry purses is that they can fit everything they need, which makes them convenient for use in crowded places.
They don't have to worry about dropping and losing their belongings.


Carrying a men's leather purse is absolutely a cool thing to do! Younger males look up to men that are confident and self-assured as role models.
Definitely, if you enjoy carrying your stuff in a purse, you should. Handbags are very convenient to use. You can use them to hold your books, smartphone, and other things.
They also come in different styles, colors, and designs, so you can find the best one that suits you perfectly.


Are Man Purses Acceptable?


Yes, man's purses are acceptable. Many students and workers consider them stylish and trendy. Some people even find them more convenient than carrying their belongings in their pockets.
Plus, when you put keys and other items in the pants' pockets, the pockets invariably get ruined by sharp items poking through the bottoms.
Indeed, men's purses are an acceptable fashion accessory.


Are Man Purses Fashionable?


Yes, a men's leather pouch bag is considered to be fashionable.
A man purse leather is one of the most trendy and stylish accessories that a man can wear in the fashion world.
It looks great on both young and older men since it can be worn with different outfits. Like women, men also love to accessorize themselves with stylish, high-quality elements such as these fashionable purses.
If they are small enough, they fit easily in an inside jacket pocket.
10 Reasons Why Men Wear Man Purses


Men use a men's leather purse for different reasons. Here are 9 of them:
To protect your valuables from being stolen, a man's leather bag is the perfect way to keep them safe. Men use this purse to keep their wallets and cell phones from being stolen.
These items can be easily removed from one's pockets, therefore, it is safer to store them in a closed bag.
You can use a wallet to keep all your credit cards and money, and they are always easy to reach. A men's leather bag is a good option for those who spend a lot of time commuting.
Nowadays, individuals take their medications with them everywhere, especially if they are needed for emergency purposes.
The leather fold over purse is ideal for this scenario because you always know where your inhaler or allergy pen is, and you can get it out really quickly.
3. To Hold Important Papers
A guy purse can hold important papers such as business cards, and other personal items that a man may need on hand.
A man purse satchel can hold light papers and can be hung over the shoulder. Professors, doctors, and lawyers are well-served with this type of bag, especially if they have to go to different locations throughout the day.
4. To Carry a Cell Phone or Tablet
You can also carry your cellphone in your bro sack. Having a phone stored in the pants' pocket is so cumbersome. Try sitting down or bending and you see how inconvenient that is!
The men's leather pouch bag, on the other hand, safeguards your expensive equipment, while keeping your clothing free from bulges and uncomfortable positions.
A purse makes it easy to carry a camera around without worrying whether it has been left behind. A man bag is a perfect accessory for photographers, or if going on a tour, and you'd need to carry a camera to take pictures.
When carrying your camera in a jackpack, the weight is distributed over your shoulders, and you don't have to worry about having a strap around your neck for long periods, like you see tourists carry their photo equipment.
6. To Hold a Pen and Book
When students need to write something down on paper, they often grab their pen from their purses instead.
Students can use the man purse bag to carry their pen and paper for classes. Writers can use it to carry their writing materials. If they need a pen and paper instantly.
For students, who will be reading on the subway, carrying around a book in a man's purse is convenient. They don't have to worry about the book getting wet or dirty or lost.
As a result, they can carry their books in the man purse bag and read at their convenience. A men's leather bag, like a briefcase, satchel, and tote, can also be used for carrying a book around.
A laptop bag is suitable for students and office workers, so long as the bag is small enough and the laptop can fit inside it. If you need to take your computer anywhere, you won't have to worry about your computer getting damaged or stolen while it is in your man purse satchel.
Carrying a wallet in a manpurse is good because it is safe and secure, plus easy to reach when needed.
If you want something more elegant, then use a briefcase. If you want something cheerful, use a messenger bag.
The best thing about carrying the man bag is that they are everywhere, making them very accessible, convenient, and easy to find and purchase whenever one needs them.
9. To Hold Personal Belongings
A guy purse is an excellent way for men to carry around their personal belongings without worrying about them getting lost or stolen.
A bucket backpack purse can be used as a large carrying case on one's back. While traveling or commuting on foot, it is perfect to transport things such as books, outerwear, and food.
Larger ones can also be piggybacked for recreational purposes such as hiking and camping.
Most men use a casual man bag to carry their laptops, wallets, keys, slippers, and all things required daily.
For more formal settings, a man bag can be used as a briefcase, and carried by hand or over the shoulder.
10. To Look Stylish and Chic
One of the coolest things about carrying a man purse is looking chic!
Where once, it might have been considered a fad for a male to wear even the smallest black leather wristlet, now you see lots of men, both in magazines, and on the streets carrying their stylish bags.
There is no doubt, that this is not a craze that is going away. It has become mainstream, and the styles get better everyday.
Today, the reality is every man, no matter the walk of life or age, needs a man purse.
Lots of men use a leather fold over purse. Yet, since there is such a diverse selection nowadays, he can choose the right one for his special purpose and needs.
Men have found that they love carrying the best man purse money can buy because it keeps them organized, and makes them look neat and tidy. It provides an air of all-togetherness, someone that is focused, confident, and orderly.
Finally, for the super fashion conscious fellow, a man purse is a must have in today's world.