ENTRY 015
Third Wedding Anniversary Gifts Featuring Sumptuous Leather
Anniversaries allow couples to relive and create memories, taking time from the busyness of life to bask in the celebrations of love.
Each married year is different as partners learn, grow, and morph individually and as a team.
And each anniversary is thus linked to a unique material that symbolically mirrors these changes.
For this special day, the feature is leather, so we want to show you some of our favorite leather wedding anniversary gifts.

What Is the Traditional 3-Year Anniversary Gift?


According to popular lore, the first two years of marriage are the most difficult, merging beautiful moments of intimacy with new discoveries. In the third year, couples are usually still in the learning phases but become more flexible and adaptable which are the same properties linked to leather.
Leather is the traditional third-anniversary gift: it's supple and durable and molds itself to its wearers' habits without losing its quality. Most importantly, it's a material often used for protection, as it can keep people or objects safe and warm.
Symbolically, leather's qualities are the same ones that can help a marriage thrive, which is why it is a fitting gift representing a relationship's longevity.
Known as a material that ages gracefully and is long-lasting, it is perfect as it manages to morph into various gift items, and we've gathered seven of the best and most useful leather gift ideas.

1. Protective Leather: Laptop Sleeve


Laptops have become a part of our everyday lives, and although a new laptop as a wedding anniversary gift does sound like a good idea, we'd like to propose something that won't break the bank quite as much.
While we're sure your spouse probably owns a laptop cover, none can compare to this leather laptop sleeve.
Made out of sturdy and soft waterproof leather, it comes in Tan, Olive, Chocolate, and Desert Black, to match any bag or case.
But the thing that sets it apart is its interior: quilted, adequately padded, plushy, and protective, it contains two side pockets to ensure no scratches from chargers or other devices carried with it.
The laptop will feel snug and secure, and your spouse can count on the leather sleeve to do its job: protect for a long time and make them look sleek and cool.
We recommend it for partners that always seem to randomly throw their laptops in bags without a care in the world while their other half anxiously stares from afar.

2. Versatile Leather: Dopp Kit and Utility Bags


We think they're perfect for people who often travel for business or leisure as they fit all the essentials from shaving tools to toothbrushes and Q-tips.
Individuals tired of picking up after their partner's grooming supplies will also benefit from this kit: in it, they'll find a gift for their spouses and themselves.
As for utility pouches, this set of three are some of the most useful products ever created.
We recommend this set with a different style and a classical and sleek design that lets these pouches pass as everyday bags for organizing items.
You can fit anything inside of them and use them in various ways including holding your keys, identification, credit cards, important papers, chargers, and even small personal gadgets.
Whether your spouse chooses to use one as a wallet or a makeup organizer, we're sure they'll thank you for this thoughtful and versatile gift.
The Dopp kit and the three utility pouches all come in the same three colors so you can mix and match, making them perfect accessories with any piece of clothing or luggage.
While we think anyone would benefit from these items, we recommend them as a gift idea from family members or friends since they fall under the 'his & hers, his & his, and her & hers' category without being just a duplicate of the same item.
You can also personalize each gift to add a touch of uniqueness.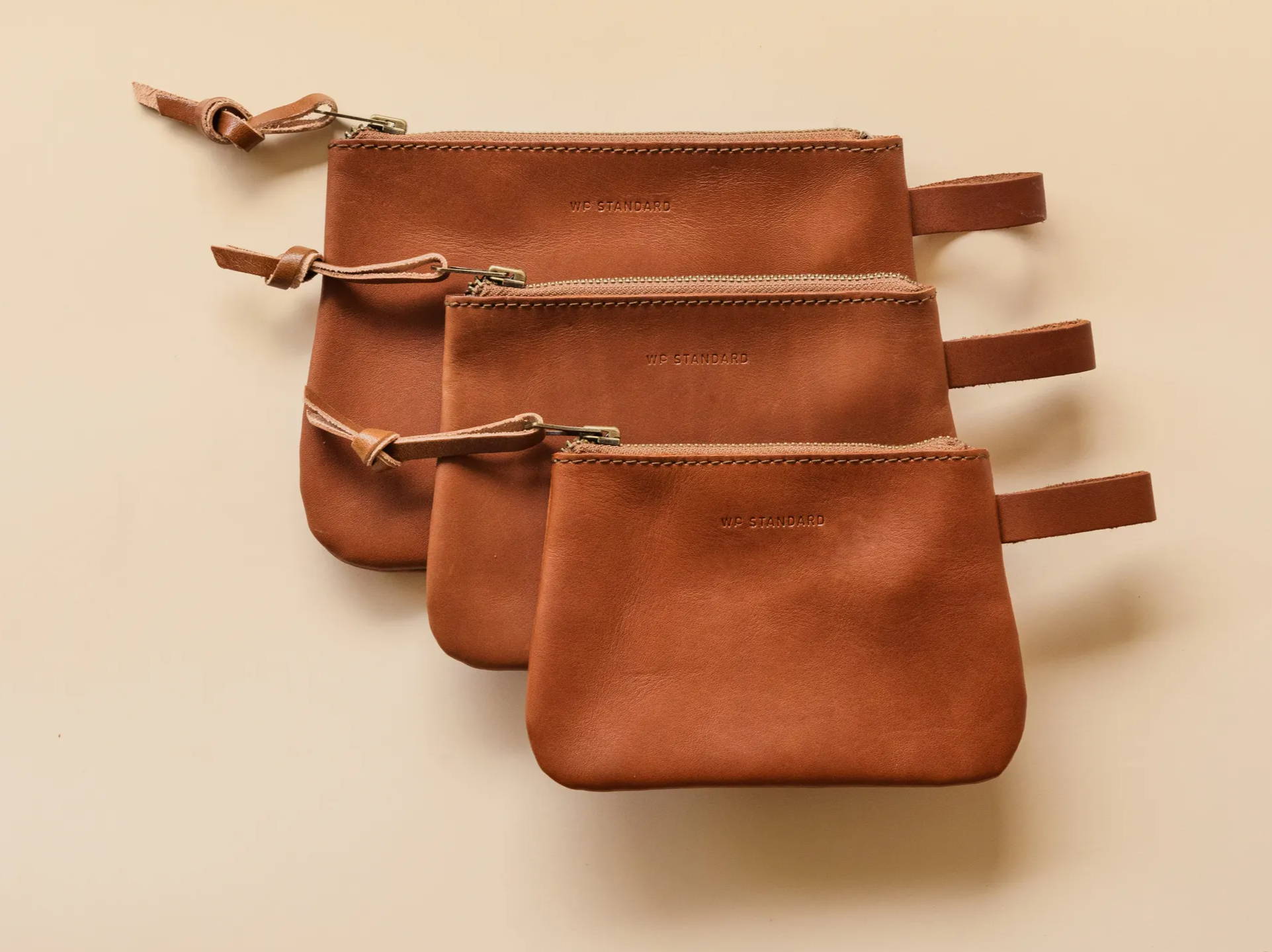 3. Sleek Leather: Wristlet Wallet and Matching Keychain


While many individuals are forced to choose functionality over style (or the alternative), this timeless wristlet provides the best of both worlds: it's compact and securely hangs from the wrist - but style won't be sacrificed for sure.





Make your own beautiful set for gift-giving by combining the wristlet with a matching classic and durable keychain. Make it even more sentimental by customizing the wristlet with the recipient's initials.
We recommend this combo for spouses that often misplace their keys or frantically go through their bags in search of money. Both items are real convenient for those on the go, too!
Just as an aside, you would be amazed at how many kinds of wristlets there are and how both female and male fashionistas enjoy wearing them. Why not take a quick look at our discussion on the trendy leather wristlet.

4. Comfortable Leather: Mr. Grumpy Slippers



Shoes made out of leather eventually conform and adjust to the shape of your feet.

If they have leather soles (like this one!), they even mold to the shape of the bottom of your foot and eventually adapt to the unique way you walk, which allows for more flexibility.
While everyone knows that slippers can elevate their at-home comfort, not many people are familiar with how much more comfortable leather slippers can be.
The Olive pair is made out of suede leather, which has higher breathability than other types of leather as well as a softer and cozier finish.
Leather slippers last much longer than those made of different materials, combining comfort, balance, durability, and style.
We recommend this third anniversary gift for partners always looking to boost their comfort (or who really need to).
And as an added bonus, we have leather slippers for women and leather soled slippers for men.
If you like reading about our processes, you might find our journey to make the most comfortable slippers an interesting read. We've come a long way since the first prototype, and because of that, there are three parts to the saga.
Mr Grumpy Part 1 | Part 2 | Part 3



5. Leather for All Occasions: Roll Top Backpack


Roll-top backpacks provide high versatility since they can accommodate different volumes and functional requirements.
This bag's opening rolls down and is secured by a strap to keep it in place.
It can serve as the perfect companion to an outdoor adventure, a travel destination (it fits cabin size requirements), or can be worn to work and still look elegant and classy due to its timeless design.
You can't go wrong with this gift since everyone needs a sturdy functional bag, and this one, in particular, is made out of the finest leather.
Keep all your personal and important belongings safe and close at hand.
Visually pleasing to the eyes and to the touch, this spacious bag comes in three fashionable and serviceable colors.
We recommend this rolltop backpack for partners with diverse hobbies that like to organize short trips or that cycle to their workplace.
Sharp looking backpack that is neat and tidy to use. Comes in three colors with a lifetime guarantee. Monogramming is available, so when choosing this item for a couple, it is easy to distinquish each partner's own bag from the other's.

If you plan to get away for your third wedding anniversary, and are eager to use your new leather gifts, why not read about our five favorite regions when choosing a hot springs romantic getaway!


Colors, Flowers, and Gemstones Traditionally Associated With the 3rd Wedding Anniversary Gift


Symbolic Colors: White or Jade Green


White is traditionally linked to innocence and purity but also completeness and perfection. As for jade green, it symbolizes growth and balance.
These colors' attributes are in accordance with the perception of having been through the first two 'difficult' years and succeeding in welcoming the third.

Symbolic Flower: Sunflower, Fuchsia, Lily of the valley


These sunshine-like blooms are symbols of loyalty, adoration, and longevity. Their stalks are known for their strong properties that aren't as easily breakable as those of other flowers.
As for the flower itself, just looking at its vibrant petals in full blooms, which orient themselves towards the sun, is easily interpretable: they radiate happiness.
Other symbolic flowers include the Fuchsia, linked to amiability and love, or the Lily of the valley, a symbol of trustworthiness and sweetness.

Symbolic Gem: Crystal, Jade, Moonstone


There are many gemstones associated with the third wedding anniversary gift. Crystal is probably the most popular, and its reflective properties represent what a couple has been through in terms of beautifully crafted experiences and moments.
Jade can also be picked as it is a stone associated with luck, love, fidelity, peace, and compassion. Chinese lore attributes to it a set of additional characteristics: it is claimed to bring money and help digestive issues.
Alternatively, the moonstone has also been a popular choice in recent years, particularly with people born in June since it is the month's birthstone. It is said to represent good fortune in love through strength and growth.
It is also said to enhance balance and calm in its wearer.
In addition to learning about leather and its relationship to the third wedding anniversary, have a read about the other most interesting fun facts about leather.
As you can now surmise, the third wedding anniversary is probably more special than you thought.
People often speak about the 10th, the 25th, the 50th and the 75th, but no-one typically does something special for the years in the beginning of a marriage.
We think you should celebrate each and every yearly milestone, and that is why we just had to showcase our leather wedding anniversary gifts!
---
Weddings and Anniversaries
You Might Also Like To Read ...