ENTRY 019
9 Reasons Why Today's Modern and Stylish Leather Travel Duffel Bag Is Your Go-To Bag
When you hear the word "duffel," what comes to mind?
For many people, the first thing that comes to mind is an old, outdated army bag. However, stylish duffel bags are no longer your grandfather's bags!
The duffel bag has come a long way since it was first invented. These days, it is not just an army bag or a man's bag, for that matter - the duffel bag can be extremely stylish paired with many outfits, and is considered fabulously chic!
The modern leather travel duffel bag is stylish and luxurious and really quite versatile for its size.
Needless to say, today's duffel bag is completely at home as your favorite go-to bag for any occasion and purpose.
Going to the gym? Taking an overnight adventure? Hopping on a plane or train for a couple days of relaxation?
No matter the purpose, a duffel bag will suit your luggage needs well.
A duffel bag is a type of bag with a cylindrical shape and two handles. It is often used for carrying sports equipment or other items too large to fit in a traditional bag.
Duffel bags are usually made from sturdy materials such as leather, canvas, or nylon, making them durable and able to withstand being carried around.
Duffel bags typically have one large main compartment and several smaller pockets or compartments for organizing smaller items. They often have a shoulder strap or handles for easy carrying.
When choosing a duffel bag, it is essential to consider what will be stored in it and how you will use it.
Now, we are ready to look at 9 reasons why today's modern and stylish leather made duffel bags are the go-to bag for many individuals.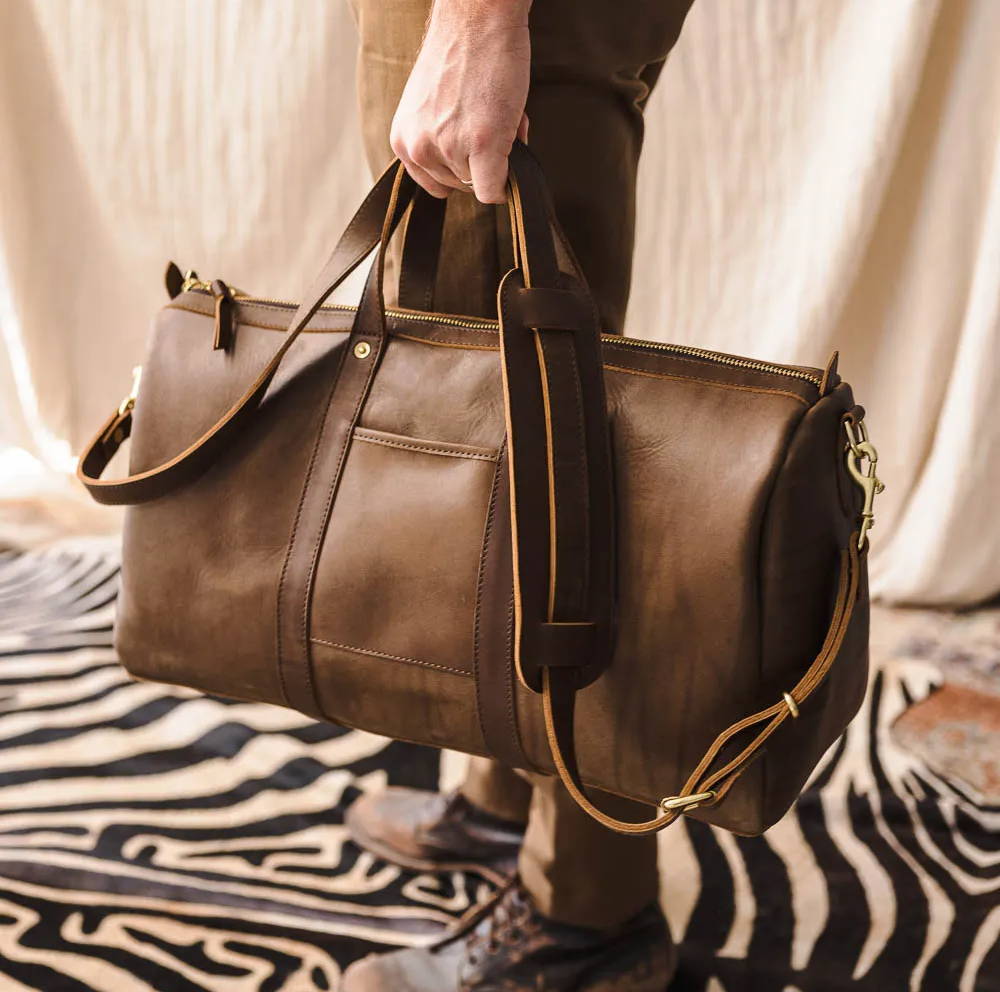 Although what we have descibed above is the traditional style bag which is typically much larger in size, today's fashion dictates a smaller, more elegant bag - something you can carry around on a daily basis for pretty much any function.
Luxury leather duffel bags tend to be more geared toward convenient carrying, and everyday use, since they are considerably smaller than the army type bag.
Consequently, they are more manageable than carrying the old duffel bag that looks like you are leaving home for good.
It's the perfect gift for birthdays, Christmas, and Father's Day.

2. Perfect Travel Companion


One of the most asked questions about today's style duffel bag is "can duffel bags be used as carry ons?"
Yes, Yes, and Yes ...
In fact, one indispensable item is a good duffel bag when packing for a trip. It's large enough to hold all your essentials yet small enough to fit easily into an overhead compartment or under a seat.
They are also often made of durable materials that can withstand being thrown around by baggage handlers.
Duffel bags usually have several handy pockets that can store smaller items, such as your passport or boarding pass.
Whether you're taking a weekend getaway or embarking on a longer journey, make sure to pack a trusty duffel bag to make your trip go smoothly.

3. The Accessory that Rocks!


Get your jam on in style by accessorizing it with a duffel bag. Available in various colors and styles, you can find the perfect one to match your personality.
A duffel bag is a versatile option for any occasion. Whether going to the gym, taking a weekend trip, or packing for a more extended vacation, this bag will make packing a breeze.
Duffel bags are made from various materials, including leather and canvas, so you can choose the right one to fit your needs.
Find a stylish duffel bag and rock your next adventure in style!
Duffel bags are an excellent option for anyone looking for a durable and reliable way to transport their belongings.
The most durable duffel bags are made from sturdy materials from leather, which can withstand being thrown around or transported.
Also, they have no rigid structure so you can easily pack duffel bags into tight spaces.
Whether you're hitting the gym or going on a weekend getaway, a duffel bag is a great way to carry your gear.
Anyone who has ever tried to find something at the bottom of a suitcase knows the importance of pockets.
Pockets help to keep belongings organized and easy to find, and they can also prevent smaller items from getting lost in the shuffle.
Duffel bags are particularly well-suited to pocketed designs, as they typically have multiple compartments that you can use to store different types of items.
And because duffels are often used for travel, pockets can also help keep track of essential items like passports and boarding passes.
So whether you're headed for a lovely weekend wine tour or a long-awaited vacation, choose a duffel bag with plenty of pockets.
Duffel bags are one of the most versatile types of bags available. You can use them for travel, work, school, or everyday errands.
Duffel bags come in various sizes, so you can choose one that fits your needs. For example, a small duffel bag can be worn as a tote or purse.
Alternatively, a giant duffel bag is perfect for carrying sports equipment or road trip necessities.
You can even find duffel bags with unique features like pockets and compartments, making them even more versatile.
Whether you're looking for a bag to take on your next adventure or need a reliable way to carry your things, a duffel bag is a great option.
Regarding luggage, there are many different options to choose from. Hard-sided suitcases, soft-sided suitcases, duffel bags, and more.
Each option has its own set of pros and cons. But if you're looking for something that's both affordable and high-quality, a leather travel duffel bag is your best bet.
Duffel bags are typically less expensive than other types of luggage, but you can still find hand-crafted ones with the same quality and durability.
So if you're looking for a new piece of luggage, don't discount the duffel bag just because it's not as traditional. It might be what you need.
One of the main advantages of using a duffel bag is that it is very comfortable to carry.
The straps are designed to distribute the weight evenly, so you won't get tired quickly when carrying it.
Additionally, the cylindrical shape of the bag means that it doesn't put any pressure on your shoulders, even when it is packed.
This makes it ideal for long journeys or for carrying heavy items. Duffel bags are an excellent option for anyone who needs a spacious and comfortable way to transport their belongings.

9. Personalized Duffel Bags


If you really want to travel in style, or are rewarding someone special, custom duffel bags are the perfect gift.

Think of a student graduating that needs a bag, but wants to look good. Taking the gift up a notch by adding their initals is something they can be proud of.

For someone else that loves to travel or needs to travel because of work, owning a monogrammed duffel bag means that there will be no mixups as to whose bag is whose.
Indeed, customized duffel bags make elegant, thoughtful, and meaningful gifts.
The duffel bag has come a long way since its humble beginnings as a sturdy piece of luggage for sailors and explorers.
Today's modern and stylish leather travel duffel bag is perfect for everything from overnight trips to the gym. With their spacious interiors and versatile designs, duffels are ideal for carrying all your essentials, whether you're headed to the airport or the local park.
Thanks to their comfortable shoulder straps and durable construction, duffels are also easy to carry, even when packed with everything you need for a weekend away.
So next time you're looking for a go-to bag, reach for a stylish duffel.
---
You Might Also Like To Read ...