ENTRY 012
Celebrate and Luxuriate In Our Favorite Leather Anniversary Gifts For Her
No matter what year you two have reached, a wedding anniversary is an extraordinary milestone when you reflect on your special day and the following years together. It is a major occasion to celebrate with leather anniversay gifts for her.
Indeed, gifting your significant other is the perfect way to appreciate the love you both share and show how much she means to you. Plus, many family members like recognize specific anniversaries, so if this happens to be the one where they are choosing something a litle more extravagant, then read on, because we have some suggestions for everyone.
Undoubtedly, narrowing down gift ideas from a sea of endless options is daunting. It could be that you are not sure what your wife will cherish the most, but nothing is superior to leather and a thoughtful gift that revolves around her lifestyle. You want to present a unique gift that will revive emotions while putting a smile on her face each time she picks it up.
Further, while she may appreciate the traditional anniversary gifts depending on the number of years married, functional items will be her ideal picks. Something she can use everyday with pride an joy.
And we are not talking about toaster ovens, mugs, and vaccum cleaners. We are thinking about leather anniversary gifts for her that are still functional, but that match her individual style.
These are items that need no thought in terms of sizing like clothing, and are much more appreciated than getting an appliance.

Let's Take A Look at Our Five Favorite Luxury Leather Anniversary Gifts for Her


A leather tote bag is a lovely essential for women. It's versatile and has enough space to contain daily needs. So if you're looking for something sturdy and durable to help accessorize your lady's wardrobe, give her a tote bag.
With many sophisticated styles and vibrant colors, the tote bag's roomy nature allows it to store belongings, ranging from a laptop to other accessories. We love that it's highly functional and has interior pockets to separate small essentials.
Its features are smart with both handles and an adjustable accessory strap. makes it easy to alternate between swinging it beside her or slinging it over her shoulder.
It's made from soft and sturdy leather, which makes it easy to carry to work, school, the beach, the office, the gym, or for a shopping day. The tote bag is durable and has become a necessary accessory in a woman's closet. It's functional and can contain many items, so you don't need to worry about where to stash all your stuff.
This multi-purpose bag serves many functions, and can be an alternative to lugging a suitcase on a short trip.
If you were wondering, tote bags are trendy and stylish, and can be paired with casuals or work outfits for effortless styling.
A briefcase makes for the perfect anniversary gift. It's durable and can fit her day-to-day work necessities, keep her documents organized, and crease-free.
What we love the most is its ability to accommodate heavy loads when she needs her laptop, books, chargers, phone, and even snacks. Although it's tailored for the workplace, it's also multifunctional and can serve other uses such as overnight bag. It holds up well and can survive commutes and business trips.
If you are thinking of an exquisite gift for her, there's no better time to splurge on a chic leather briefcase bag for your wife. The briefcase is sturdy and has internal and external zipper pockets to hold essentials.
The added adjustable strap comes with a comfy padded shoulder, and is designed with a specific compartment to protect her laptop. You can also sling it over your shoulder when you want your hands to remain free.
As a staple for all professionals, the leather briefcase bag will enhance her image and is stylish enough to pair well with formal clothing.

Leather Laptop Sleeve with Quilted Interior


A laptop is used in many environments, making it succeptible to accidents causing scratches and damage. Even placed in a tote bag or briefcase, it can still get marked up by other items in the case.
Your wife's laptop deserves complete protection from scratches, dust, bumps, and liquid spills. So if you're thinking of a thoughtful and affordable gift, consider buying her a leather laptop sleeve. It's a sleeker, and less bulky alternative to the traditional laptop bag.
What we love about the leather laptop sleeve is how it also makes a statement of style and coordinates well with any outfit, especially if carried in the hands instead of in a bigger bag. One of the beautiful colors will match her personality and her other accessories.
The laptop sleeve is sturdy and built to provide excellent protection. It has internal pockets to hold a charger, phone, or other essentials. The soft interior padding keeps her laptop well protected, and will definitely save on the wear and tear on her devices.

Leather Zip Around Wallet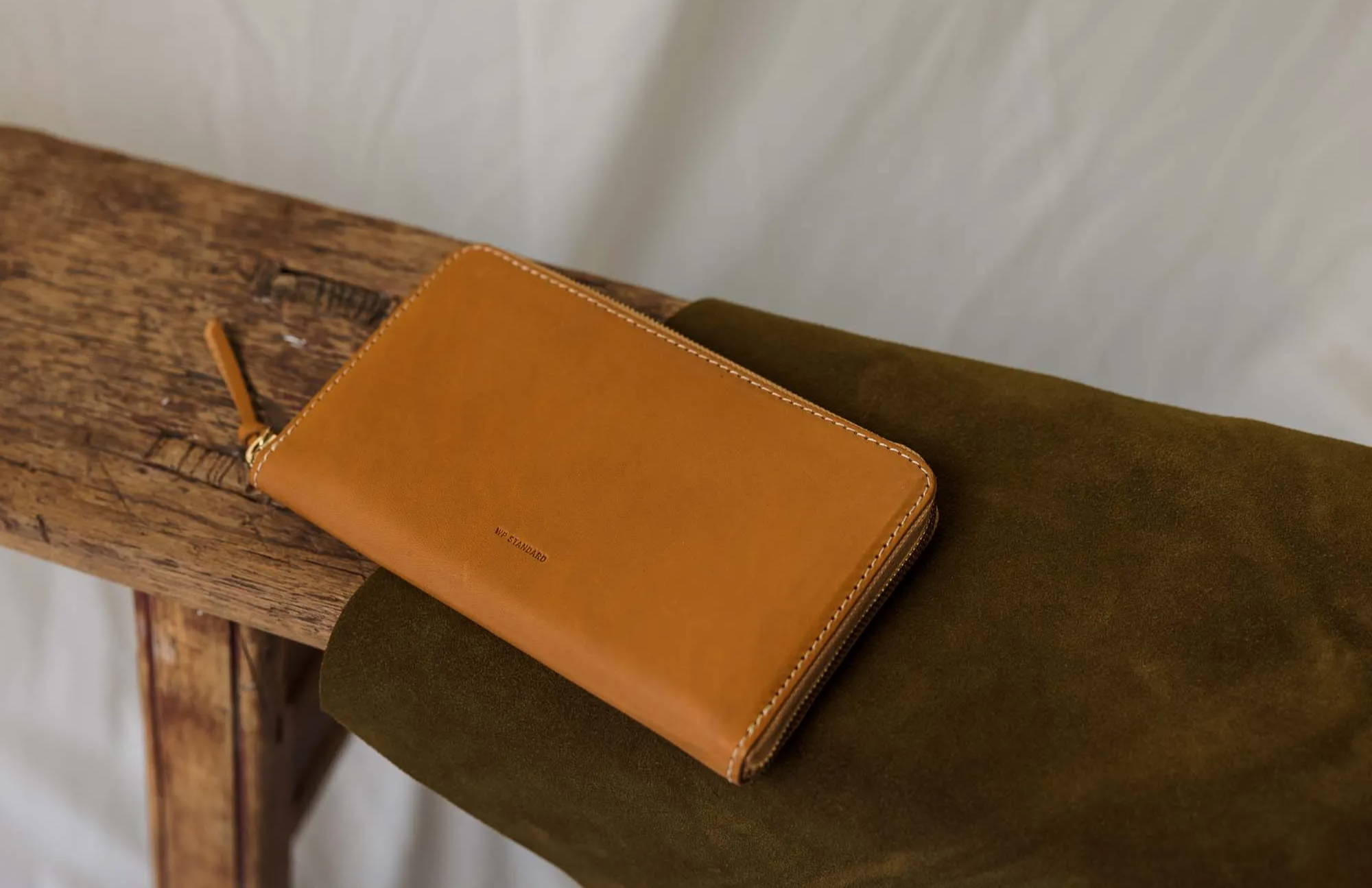 For those individuals that are highly organized and worried about their personal data, then a wallet makes sense to own instead of throwing things in a pants pocket or even a pocket in a purse.
The leather zip-around wallet is ideal for this person. It is absolutely functional and perfect for carrying cash, credit cards, ID, loyalty cards, receipts, driver's license, and emergency contact information. It might even fit a smartphone and a tube of lip balm!
Further, it has two handy cash pockets, a zip coin pouch, and credit card slots. Best of all, the zipper firmly secures private items, so that important documents are not lost.
It's functional, travel-friendly, and can fit into any bag effortlessly. Since we never leave the house without a wallet, we would want one made from sturdy leather materials that hold up well and last forever.
The most lovely thing about this wallet is that it comes in a variety of colors that are super easy to mix and match with casuals or formal attire. In fact, there is no need to worry about any lady have more than one wallet. If they are different colors, she can mix and match her wardrobe and ensemble.
Every girl loves her sunglasses. They protect the eyes from the sun, hide dark circles, and can make a really bold fashionable statement, or keep things subtle.
However, glasses require a portable case to store them safely, and protect them from scratches and untimely damage.
A leather sunglass holder would be the perfect gift for your wife to remember you anytime she carries it. We love that it's lightweight and prevents eyeglasses from rubbing against rough surfaces. Even when sitting on the table at home, it stops the glasses from collecting dust.
Indeed, such a simple gift, but completely practical, and required protection for expensive sunglasses.
Now that you have seen our absolute favorite leather anniversary gifts for her, what will you choose for your wife, sister, daughter, or best friend on her special day?
You only need to think about her best color, and whether monogramming will add to the uniqueness of the gift.
---
Weddings and Anniversaries
You Might Also Like To Read ...