ENTRY 029
Five Modern Sentiments for Father's Day Gifts for Husband
The time of year has arrived when families are scrambling in their excitement to celebrate their awesome fathers.
And while children, young and old, enjoy making a grande day of it, in this article, we are going to focus on Father's Day gifts for husband.
More specifically, the reasons why a wife might give to her husband when, in fact there are maybe no kids or they have just welcomed their first baby into the family.
Let's take a look at five modern sentiments for Father's Day celebrating.

Father's Day Gift Ideas From Wife


The most important thing that men would want is to feel special, to feel cared for. So, when deciding what would make your man feel special, think about what things you have done together and what he has enjoyed throughout your relationship.
If he's a couch potato don't go and get him some elaborate tool set that's on sale. Being given tools, while useful, can often feel like your being given a project to work on, as opposed to feeling cherished by the one you love.
Try and think of gifts that you can enjoy together. The holidays don't have to be about what you can buy, they often mean so much more when you can have a meaningful experience, just the two of you.
If you know his favorite food you could try making it for him and having a romantic evening together, or you could go out for a nice evening on the town without the kids, to remember why you fell in love in the first place.


Or you might even decide on a weekend away or just an overnight. In that case, a new carryall bag would do the trick. Our classic canvas Bag is excellent to hold things for one or two days.
Click here to see what you think ....

If you have a newborn, you might be feeling like the idea of adding more onto your plate to celebrate Father's Day is a daunting task, however this doesn't have to be a big ordeal, this can be a time to take in the small things, so you have something to look back on together.
Think about getting outside and enjoying the day altogether as a new family.
When celebrating Father's Day for the first time, this can be great opportunity to gather mementos of your child's early life. You can get him things like a picture of your baby's footprint and handprints.
Items like this can be used to show just how far your child has come as they age and will make it more meaningful once the child can make Father's Day gifts themselves.
You can also get him a gift with an engraving or memento from your child to make the gift personalized. Things like a cooler or a mug with a custom design can be a cute way so he can constantly think about you while going about his day-to-day life.


What work-at-home-dad wouldn't be happy to receive a monogrammed leather mouse pad from his new little one? Even if he travels for work, this is not only a handsome gift, but one that is long lasting.
Read the excellent reviews on this mouse pad...



Happy Fathers Day From The Dog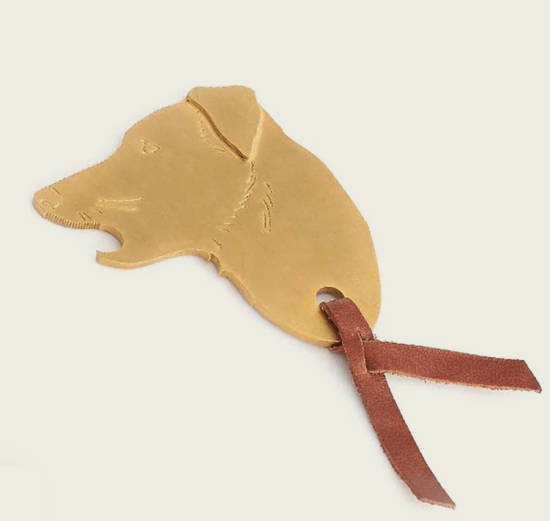 If you have a dog together, you could include the furry friend in the holiday celebration. While you wouldn't think of dogs when discussing Father's Day, including them can be used as a great way to have a nice moment together.
You could go to the dog park together and enjoy the nice summer air. You could try getting pictures taken together with the dog. That way you can always look back and see the bonds you shared.
You could also just get an extra small gift and then give say the dog picked it out. Its an extra four paws reaching out and making your man feel special on this happy day.

Sentimental Fathers Day Gifts


The most important aspect of having a gift be sentimental is that it's personalized. A personal touch is the most important aspect of adding sentimental value to a gift.
There are things people will value just because of the memories behind them, so try and chose something that he either has a deep connection to, or something that he will use repeatedly, so every time he looks at it, he thinks of you. An example of this could be an engraved coffee thermos.
Adding a heartfelt or silly message to an otherwise boring coffee thermos is a good practical gift, and it attaches a level of meaning that makes it only valuable to him, and those are the gifts that will hold the most sentimental value over time.
You can also choose something related to some aspect of popular culture that you both share. Maybe you can get him an album that you both enjoy, or a card that plays your wedding song when he opens it.
Music is a great way to add sentimentality to a gift, as music is one of the strongest senses when it comes to emotional memories.

We don't know many men that don't wear belts. It is a gift most fathers can use and to make it personalized, you can get his initials added to it. In traditional tan or black, your Dad will appreciate this sentimental gift.
Have a look for yourself.

Fathers Day Baseball Hats


Another way to connect to your man's heart is through his love of sports. Sports are often a very emotional topic for people, as they might have followed the same team throughout their whole lives.
If you know your man has a team that breaks his heart every year when they lose, try getting him some sports memorabilia to celebrate your Father's Day. The good thing about sports memorabilia is there are so many different kinds.
Every major sports team will have their own jackets, hats, gloves, license plate frames and depending on the time of year and the sport, you might be able to get him tickets to see a game together. Seeing his favorite team win with the woman he loves would be an amazing Father's Day gift for any sports fan.
It could also be used as a way for him to introduce your child to the sport so they can have a lifetime of bonding over the sport together.
When thinking about Father's Day gifts for husband, the most important thing is making sure you choose something he will find meaning in. The flashiest gift in the world won't have nearly the same emotional impact as the time spent with the woman of his dreams.

Don't get distracted by articles recommending you buy gadgets that neither of you will ever use, choose something that has meaning in your relationship. Each relationship is different so try and realize what you love about this man and how you can make him feel beloved on this one special day.
---
You Might Also Like To Read ...