ENTRY 023
Spruce Up Your Accessories Wardrobe with A Classic Brown Leather Wallet
A wallet is a simple and helpful accessory that everyone should own. It completes your look and at the same time, keeps your essentials organized. To take it a step further, a brown leather wallet is an important accessory you should have in your wardrobe.

From its quality to the classy way it matches your clothes, it is a must-have for you.

In this article, we will discuss the benefits of a brown leather wallet, ways to style a brown leather wallet, top-grain leather wallet, how to clean a leather wallet, monogrammed leather wallet, and small black leather wallet.
Let's get discussing!
Benefits of A Brown Leather Wallet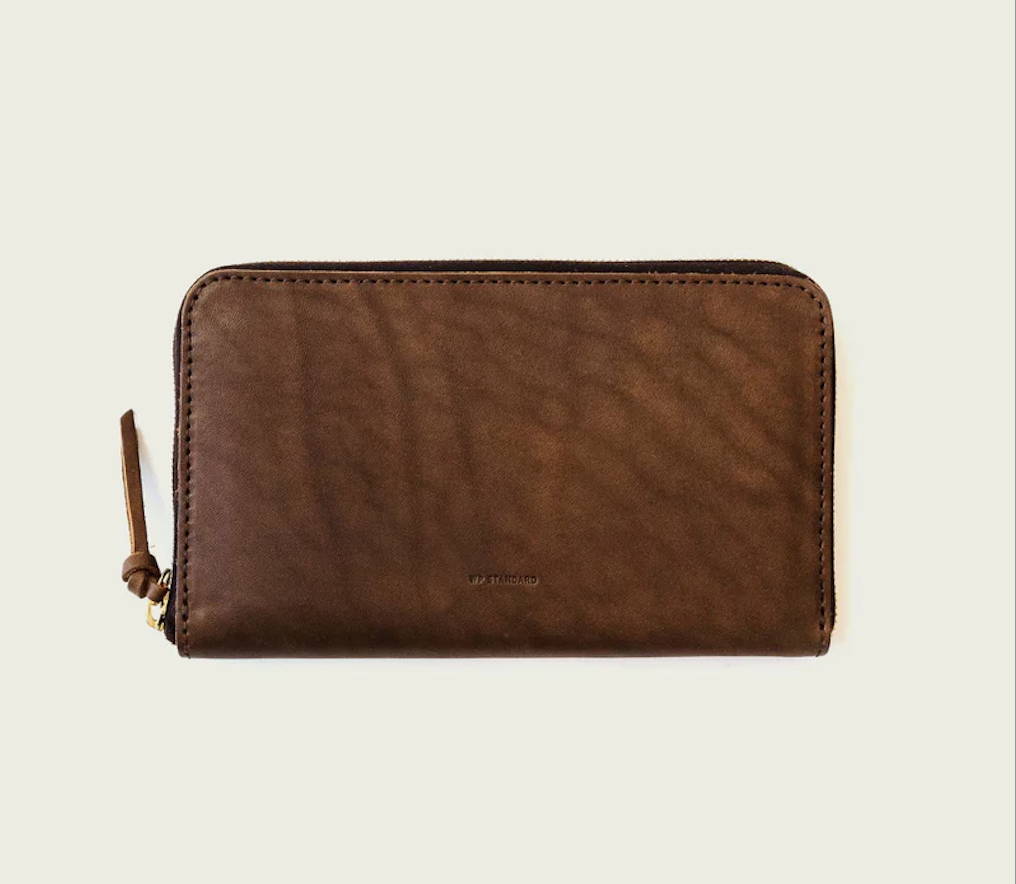 A brown leather wallet is a must-have item for both sexes.

Its classic appeal makes it stylish to hold in one's hand while wearing casual clothing, or you can match it with any handbag and it looks awesome.

Whether you choose a wallet with a zipper all around to make sure nothing falls out, or you choose the strap closure, a brown leather wallet is timeless.

It is elegant, it is fun, and it can do dress-down!
Why Every Accessory Wardrobe Needs A Brown Leather Wallet

It Communicates Your Taste: Have you noticed the sleek look a brown wallet gives? Brown wallets make you look ready to conquer the world. A bespoke brown leather wallet demonstrates your taste in quality fashion styles and gives you a clean and classy look. Be sure to match it with your elegant brown leather tote bag!

It Keeps Your Essentials Organized: You don't want to be disorganized when you are out and about or on a trip. A brown leather wallet has inner compartments where you can arrange essentials such as cards, documents, and cash. It helps you keep everything in one place.

It Protects Your Belongings: A brown leather wallet protects your essentials from getting damaged and from theft. It also keeps your belongings safe from harsh weather exposure. Your credit cards get damaged multiple times a year because it is not well protected. A wallet will keep it safe from damage.

It Is Easy To Carry: A brown leather wallet is a simple item that is easy to carry. It is sleek, minimalistic, and portable. You won't feel any weight when you use it.

It Is Durable: Simply put, a brown leather wallet is long-lasting. It lasts longer than wallets made with other materials and can be used for many years after purchasing it.

Top grain is one of the highest quality leathers in which the top layer is removed. Even though it is second best, it is still excellent quality. Many handbags and wallets are made from top grain leather.
One of the reasons top grain leather is an option for purses and wallets is because it is tough and gives the finished product a pristine or sleek look. Removing the top layer prevents the wear and tear of the purse or wallet.
Monogrammed Leather Wallet


When it comes to a wallet design that highlights and showcases your style ... think monogramming.
This is the process of personalizing your wallet with your initials. To be honest, monogramming elevates any piece of leather by making it look rich and sophisticated.
A monogrammed wallet is a subtle, stated accessory for both men and women, especially if you carry your wallet in your hands instead of a handbag.
It's definitely a feature you want to consider when you choose your next brown leather wallet. No doubt, a monogrammed leather wallet will become your favorite accessory!
Now, I know we are talking about brown wallets in this discussion, and they are probably the most popular color, but if you can't get a particular hue that you like, then go for a black leather wallet.
Black is the next best all-around color to brown.
Further, if you already own a brown leather wallet, and you want to expand your wallet collection, a small black leather wallet is the right choice for you.

We all know that black will forever be in style. It is the go-to color that can easily match everything. Therefore, investing in a small black leather wallet seems like a great idea.

How To Clean A Leather Wallet


You'd be amazed at how much junk collects over time in a wallet. Sales receipts from shopping, dust and dirt in the crevices of the material, old credit cards that have expired, and way too many coins.
Plus, often the exterior of the wallet starts to look run down and shabby, simply because it needs some TLC (tender loving care).
If you own something in vinyl or even canvas, the wallet probably will not last as long, but with a brown leather wallet, you are going to want to properly clean it to keep it forever.
Let's quickly review some pointers for cleaning that once-lovely wallet so it beams like new again.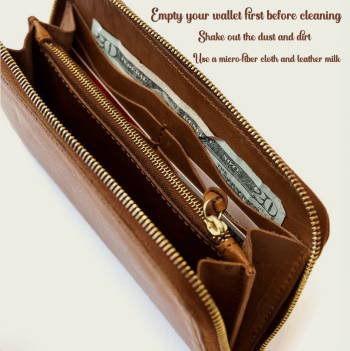 Remove Everything From The Wallet

This seems like an obvious first step.
But your task will be more fruitful when completed if every spec of the wallet is properly cleaned.
Also, you want to ensure that both the wallet and the contents are not damaged.
Give the wallet an upside down shake to loosen the dust bunnies and dirt particles.

Oils, Waxes, Polish, And Alkaline Cleaners Are A No-NO
While trying to clean the leather, you may inadvertently damage the coloring or deteriorate the strength of the material. Also, alkaline cleaners are meant for metal and are way too strong to be used on leather. This is one time leather is actually very delicate.
Avoid baby wipes that can contain any elements that leather does not like.
Use A Leather Conditioner
Apply a very small quantity to a micro-fiber cloth and clean up the wallet in straight lines. Do not drag the cloth on one spot over and over.
Just gently and carefully clean it and you will see the specks of dirt come off.
Ideally, a leather conditioner, made with natural and non-toxic ingredients, such as Chamberlain's Leather Milk, is the perfect product for your luxury brown leather wallet.
A leather wallet is one of the most important accessories for your outfit.

It is not only simple and timeless, it switches up your style to give you a classy, sleek, and clean look.

An investment in a brown leather wallet is probably one of the best in your wardrobe!
---
Leather Zip Around Wallets
You Might Also Like To Read ...