ENTRY 033
Passionate Styling in the Making ~ The Brown Leather Tote Bag is the LBD of Carryalls
Most everyone knows the story how Coco Chanel made the Little Black Dress one of the most important pieces in female fashion. It became an icon and endures even today.


Its versatility and functionality means no lady would be caught without a least one simple black dress in her wardrobe.


And now, the brown leather tote bag is doing the same thing for handbags, briefcases, satchels, and all manner of carryalls. The craze has begun!


Tote bags are a must-have for any fashionable woman. They are the perfect way to carry all your essentials with you wherever you go. And now, the latest trend in totes is brown!


Brown leather tote bags are stylish and versatile, and they can be matched with pretty well any outfit.


Therefore, if you're looking for a new bag to add to your wardrobe, then be sure to check out the latest trends of brown totes, which we will explore in this article!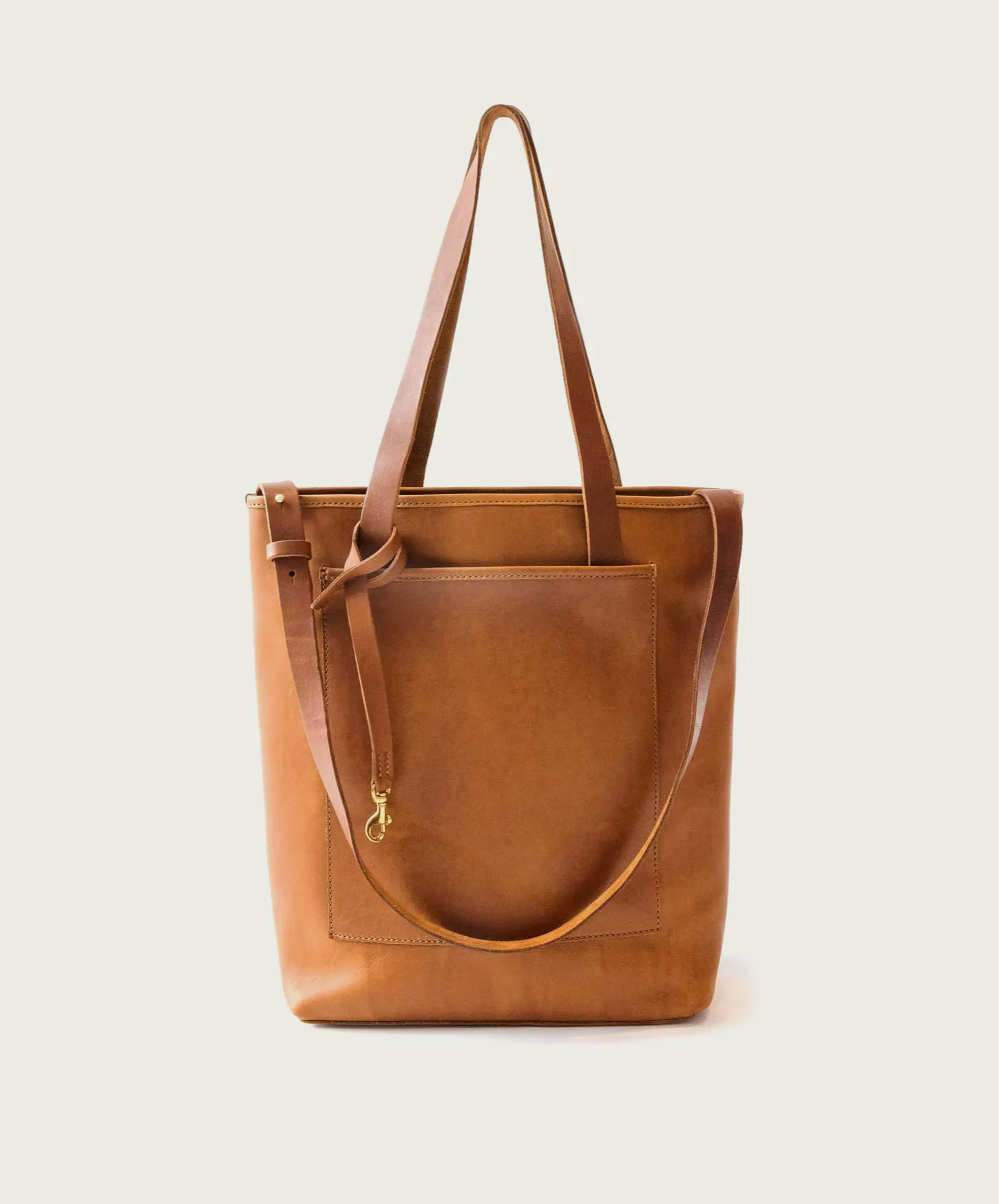 Tote bags are a type of handbag that is typically large in size and has a rectangular shape.


They are usually made from sturdy materials such as canvas or leather, and they often have a wide range of pockets and compartments to keep your belongings organized.


Totes are the perfect bag for busy women on the go, as they offer plenty of space for all of your essentials.


4 Reasons A Brown Tote Bag Is The Modern Go-To Accessory


There are many reasons why brown tote bags are the current big thing. Let's dive deeper into four reasons these bags are changing women's fashion.


1. Versatile and Complementary


One of the best things about brown tote bags is that they are versatile and easy to match with any outfit.


Whether you are dressing casual, wearing a suit, or just going to the beach, the large brown leather tote bag will serve you well. In fact, the brown leather hobo tote bag has made a resurgence in style and popularity.


Further, if you prefer wearing a casual jeans and t-shirt combo, or a more formal dress, a big brown bag tote always looks chic.


And because today's brown leather tote bag comes in such a wide range of styles and designs, it's easy to find one that fits your personal fashion sense.


2. Wide Range of Styles and Designs


As mentioned above, brown tote bags come in a wide range of styles and designs.


From classic leather totes to trendy canvas designs, you'll be able to find a brown bag that fits your taste.
In fact, we have seen a few companies that make a black and brown tote bag. It is actually quite smart looking because the bag itself is brown with black accents that can match many ensembles.


In addition to this, brown tote bags are often sold in different sizes allowing you to choose one that's just right for your needs.


3. Durable and Long Lasting


Another great point about brown tote bags is that they are durable and long-lasting.


Unlike other types of carryalls that fall apart after just a few uses, a leather brown tote bag is designed to last.
Indeed, a company that excels in leather craftsmanship will offer a proper guarantee, and will make each piece to exacting standards.


Lastly, brown tote bags make exceptional gifts! They are almost always well-sought after, and once someone receives one, they never run out of uses or ways to incorporate it into their daily living.


If you have a birthday coming up or another holiday that warrants a gift, be sure to start leaving a few hints early, so that you can be super surprised when you receive that special tote.


For the couple that are celebrating their third wedding anniversary, leather is the right material to mark the occasion.


How Much do Brown Tote Bags Cost?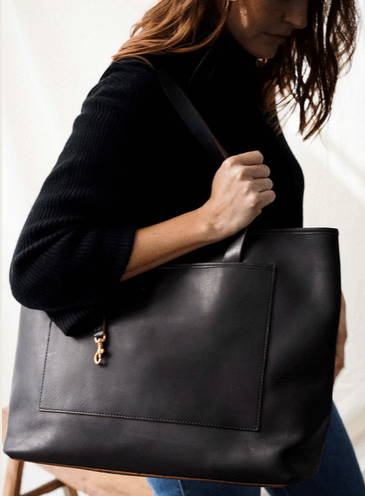 Now that we've explored some of the reasons why the tote bag brown is so popular, you may be wondering how much they cost.


The truth is that prices can vary depending on the style and design of the bag. However, you can expect to pay for a high-quality brown tote.

Of course, it all depends on the quality of the bag, and the type of brown tote bag you are looking at.


However, we can attest to the fact that a brown leather tote bag is definitely worth the investment.


And to be honest, you don't need a designer brown leather tote bag, which is probably the most expensive price-wise.

You'll find there are small boutique companies that offer just as beautiful bags that are stunning to wear, yet are a little more reasonable in pricing.


As covered above, these bags are the boss when it comes to style, function, and durability. So, despite the slight investment that comes with getting your hands on one of these stylish bags, it's certainly worth it in the long run!
Brown Tote Bag Materials to Consider


Besides style and design, another important factor to consider when purchasing a brown tote bag is the material.


As mentioned before, these bags are typically made from high-quality materials such as leather or canvas, which happen to be the two most common materials.


As such, we'll venture into the differences between these two materials to help you make a more informed decision.


Leather tote bags are classic and chic. They often have a timeless look that never goes out of style.


In addition, leather totes are very durable and long-lasting which makes them ideal for busy women who need a bag that can keep up with their hectic lifestyles.


Canvas tote bags are also popular among women due to their durability and stylish designs. However, they tend to get dirty easily and are hard to clean.


The downside to canvas totes is that they are not as resistant to wear and tear as leather totes and may require more care over time. Plus, they do fray after long use and wear and tear.


Types of Brown Tote Bags: Which One is Right for You?


We've mentioned the number of different styles and designs that brown tote bags come in, as well as the material options to consider, but we haven't gone into detail about the different types of these bags.


So, let's take a closer look at three of the most popular options.


1. Brown Leather Tote Bag with Zipper


Totes with zippers are great for women who need a bag that can keep their belongings safe and secure.


These bags often have multiple compartments and pockets which make organizing your things a breeze.

In addition, you'll find some models come with a shoulder strap for easy and alternate carrying.


We're sure you'll find a brown leather tote bag with zipper the most convenient accessory you'll own!
Open top totes are perfect for women who need a larger bag to carry around all of their essentials. These bags often don't have any type of closure which makes them easy to access.


However, this also means that they are not as secure as totes with zippers. As such, open top totes are best used for everyday errands like carrying light groceries.


If you're looking for a brown tote bag that is both stylish and functional, then a fold-down tote is a great option.
These bags can be easily folded down when not in use which makes them perfect for women who have limited storage space.


Additionally, and more importantly, when using them, you can fold down the top to the spot where your belongings end. That means the fold-down does make the bag more secure from things falling out or pick pockets grabbing something.


It also means your load can be different sizes, which makes your bag adjustable.


When buying a fold-down tote, though, you are much better off with a soft brown leather tote bag. Leather is not going to split from the creases in the fold. Other materials easily rip and tear from the continual folding.


---
You Might Also Like To Read ...